Welcome to Pour Your Heart Out- if you need more info on how to participate, check out
THIS
post. But it's personal- it's what YOU think is pouring your heart out. Please grab the PYHO button or link back in your post if you are participating.
Again, just a brief reminder that everyone linking is pouring their hearts out and we should all be respectful in our comments. 😉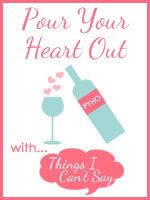 I thought for sure this would be an easy week for me to "Pour Your Heart Out."
It's Lead Poisoning Awareness Week so I thought I'd talk about how Bear's lead levels continue to come down and how much progress he's making at school. I thought I'd share how sometimes, as a mom, we can do things to protect our kids but we can still miss things and how we shouldn't blame ourselves.
And yet, here I am, not ready to write an upbeat post about progress.
Because while Bear's lead levels do continue to go down, we don't know how much permanent neurological damage has been done.
And while he's doing better at school than he was at the beginning of the school year, I still have to pick him up two hours early every day because the full day is just too much for him. And he still manages to find trouble. And that he seems "off" in comparison to kids his age.
I just wish things could be easy for him.
He has a psychologist appointments this month to further evaluate and see if there is anything else we can do to help him. We're hoping for help.
But, I can't find it in me to be upbeat about it right now.
And while I could write the second part of the post, about how we can miss things as moms, even when we think we are being careful… I can't talk about not blaming myself.
I used to check all the recalls diligently to make sure my boys didn't have any toys that contained lead.
But, it was our home, which we were told was safe, that poisoned my son- my Bear who was at that stage where kids put everything in their mouths: oldest was past it and youngest wasn't there yet, which is how only one of our children was affected.
And even though I've been told time and again that I couldn't have known, that I did what I could, that we can't see every danger….
I still blame myself.
And I sometimes live in the Land of What-If where I wonder just how different Bear's life would have been if we'd caught it earlier.