If you need more info about Pour Your Heart Out, see
THIS
post.
But, really, it's anything that YOU consider pouring your heart out.
Be sure to check out some of the links- you will find some amazing stories out there.
Again, just a brief reminder that everyone linking is pouring their hearts out and we should all be respectful in our comments. 😉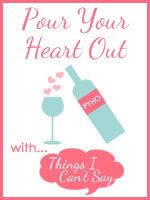 Do you ever have thoughts floating around in your head about something and then read a blog post that sort of helps you to see things clearly?
I was thinking about how to balance everything:
Being a mom: Really being there for Monkey, who is in kindergarten. Planning to volunteer in his classroom once a week starting next month. Dealing with the problems that Bear has been having. Finding the right situation for him. Enjoying every moment of Cub being a toddler, before he is officially a big kid and I have no more babies in my house.
Being a wife: Really being there to support my husband. Enjoying each other. Putting the effort into our marriage.
The Everyday: Keeping up with the house! Which can be a challenge with three little boys! Plus, I really hate to clean. This is always a struggle for me.
Taking care of me: Getting to the gym. Time for friends. Time for me to be me.
And then you add BLOGGING to all that. Now, I love blogging. It's a hobby, a passion, and sometimes I get some pretty awesome opportunites because of it. I love reading your stories. And I love when you read mine!
But, it takes work. I wrote Tips for Blog Newbies, which is just what you think it is- tips for those of you who are just starting out.
But, does blogging change over time? This was all swimming around in my head. How to balance it all.
Then, I read this fabulous post by Theta Mom- it was in her archives and I actually went looking for it knowing I needed to reread it: Balancing Your Mojo Before You Land in Blog Burnout. I highly recommend that you read it. It really helped me to see that what I was feeling was pretty normal. Even emailed back and forth with Theta Mom a little, talking about it. *Thanks so much!*
It really clarified some things for me.
While blogging is a love for me, I CANNOT let it make me feel guilty. It can't feel like a chore.
Was I offline because I was playing with my kids on the playground? Did I have less time to blog because I was at the gym? Did I make a special dinner for my husband and therefore not reply to every email that I received?
Well, that was putting life ahead of blogging. And if we never do that, we won't have much to blog about.
I love the friendships I've developed in blogland. The community that I feel with those of you who stop by my blog. I never sit here and wonder why so-and-so didn't visit my blog yesterday. Or why someone might miss some of my posts. Because I know that we are all living lives outside the blogosphere.
And, if I can cut others that slack and never judge them for it, well, I really need to cut myself that same slack.
No guilt over blogging. Because I've realized that even if I never left the house and gave up sleeping, I couldn't read and comment on every blog that I want to. It's just not possible.
Knowing that I can't attain that perfect goal of being "all caught up on blogs" gives me permission not to try. To do the best that I can with it, but never to neglect the other parts of my life for it.
I feel better about it. Less stressed. Like I'm moving towards a happy balance.
Do you ever feel like this? How do you keep the balance?
Now, not to go back on what I just said about just doing what you can- but please do visit some of the Pour Your Heart Out linkers. You'll find some really heartfelt stories out there- it's a great way to really get to know other bloggers.