Most of us set all sorts of goals for a new year, don't we?
I've done this on a personal level, but on a blogging level, if Pour Your Heart Out(PYHO) had goals, it would be to remember its roots.
Write a post from the heart.
Something that has been weighing on you.
Something you feel passionately about.
Something you've been wanting to talk about.
A cause, a memory, a belief, a world view.
That's how I described it when I first announced the Pour Your Heart Out link up, almost two years ago.
It was about taking a moment to really write from the heart.  To dig a little deeper.
Not every post has to be gut-wrenching. But, they are all very real.
That's what I want to encourage you to link when you join in. Be real.
Share what's important to you, what's stressing you out, what caused you great joy. It might be a memory from the past or your hopes for the future.
Pour Your Heart Out has never had an assigned topic because I want it to be about what's on your heart.
Reading all of the posts that link up is one of the highlights of my week. I feel like by reading posts where you really share from the heart, I get to know you.
And if you take the time to read some of the links, you'll get to know others.
Encouraging others to share and building a community of support: that's what I wanted Pour Your Heart Out to be.
I've asked all of you to be sure to be respectful in your comments on any PYHO linker. That we might not all agree with each other, but we can accept someone's right to a different opinion without attacking. And I've seen this: I've seen the love in the comments, the support, the tweeting of each other's posts.
When I see that, I feel like PYHO is doing what it was intended to do. Because of all of you.
If you've never linked up before, I challenge you to do so this year. Join in the community that y'all have built.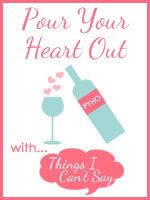 Link up your PYHO post below: on the linky, you will see that a backlink is required. Either a link or the button from the sidebar is fine. I do this to help keep the linky spam-free and so that when you visit other links(which yes, you should!), you know you're going to a PYHO.