If you want more info about Pour Your Heart Out, see
THIS
post.
But, really, it's anything that YOU consider pouring your heart out.
Be sure to check out some of the links- you will find some amazing stories out there.
Again, just a brief reminder that everyone linking is pouring their hearts out and we should all be respectful in our comments. 😉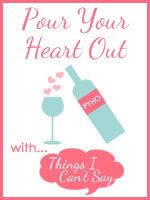 This is my "where I suck as a mom" edition of Pour Your Heart Out.
I have to tell you that this is probably the worst thing that I've done as a mother and even *I* who tells you everything, hesitated about sharing this.
Because it breaks my heart that I failed so miserably.
For those of you who don't know, I was a teacher for almost 6 years before my oldest was born. I became known for taking those students who didn't shine in other classes and having them shine like a superstar for me. That expectations and encouragement make a huge difference. I preached that shit.
Which makes my fail even worse.
Again, if you don't know, my almost-4-year-old, Bear, has had some developmental delays due to a previous illness. As he's healing, he's making tremendous strides.
But, I had him evaluated once again recently. As his preschool teacher and I were discussing the results from the eval team, she said something that stopped me in my tracks.
She said, "He is such a smart little boy. He's so smart."
And my heart stopped.
Not that I've ever said that he was stupid, but I don't think I've ever called him smart.
He's extremely athletic and has always tested well above his age in his gross motor skills. He tests higher than his big brother in this area. At least 2 years above the norm in that area. He's our little athlete.
He's sweet as all can be. He hugs and kisses and freely gives out "I love you"s. He's the first to notice if someone is crying and go see if they are okay. I clearly remember the day that our doctor called to give us his lab results last year. Tears were streaming down my face and my little Bear ran to get a baby wipe and tried to wipe my tears away.
And he's gorgeous. He has the best smile and the prettiest eyes, with the longest eyelashes.
But, have I ever told him that I thought he was smart?
Maybe. Yes. No. I don't know. I don't remember. Probably not.
Worse: have I ever really thought "Bear is smart"?
I don't think so.
See, I told you this was bad.
And, oh, my darling Bear, I'm so sorry. So, so, so, so sorry. You are smart. You know so much and try so hard to learn new things. You are learning new things every day. My smart, smart Bear.