In case you don't know what this is about, I'll lay it out for you. If you already know, you can skip down to below the button.
I tend to write a post about once a week where I really pour my heart out to you.
I've written about marriage, religion, anger, the struggles I've had with my middle son, body image, and sex, just to name a few.
And I love having a place where I can get this all out.
So, I thought I'd see if anyone else wanted to "Pour Your Heart Out" with me.
Here are the Rules:
Write a post from the heart.
Something that has been weighing on you.
Something you feel passionately about.
Something you've been wanting to talk about.
A cause, a memory, a belief, a world view.
Anything.
I don't want to assign you a topic because I really want this to be from your heart.
Though, if you are stumped, read some of the posts that are linked, and get ideas from there! We had some amazing posts last week: looking back on the past, religion, mothering…they were so touching to read.
Grab my new button for your post and link up!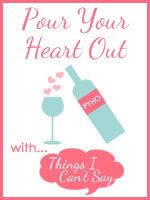 I hate that I even have to say this, but, whether you are participating or just reading, please keep in mind that the people linking really are sharing something from the heart. So, please, BE RESPECTFUL. We might not agree with each other, but we can all accept someone's right to have a different opinion than we do and NOT attack someone because of this. Play nice. 🙂
****
I needed tissues for some of your posts last week. And some of you made me laugh. Remember: you can write whatever it is that is on your heart. It might be a tearjerker one week and funny the next. No rules or expectations, other than for you to share something from your heart.
What I'm going to share with you today isn't really something that is going to make you reach for a tissue. But, it's something that I struggled with a lot when I was younger.
I am a confident woman.
I actually say things like:
Well, you do know that I'm fabulous, right?
and
Because I'm so darn cute. And smart.
and
Of course, everyone loves me.
Wait….wait…don't run away from the crazy lady on an ego trip.
Here's my secret: I used to be the most insecure person ever. Really.
I thought just about everyone I knew was better than me. Prettier, thinner, funnier, you name it.
I compared and they were fabulous while I sucked.
But, here's something that I learned along the way: listening to someone list all their shortcomings gets really old.
And, if someone acts like they aren't "good enough," well, that's how they get treated.
But, if you are comfortable with who you are and act confident, people will start to see you that way.
That's right. I'm telling you to fake it til you make it.
My roommate in college was always getting asked out on dates and asked to participate with this group and that…and I usually just tagged along, feeling like the unwanted loser.
But, do you know what? Looking back at pictures, I was just as pretty as she was. And funny and smart, too.
Though, I didn't realize it at the time. Instead, I expected that people wouldn't like me. And it made such a huge difference in the way that she and I were treated.
I wish I could go back and instill some confidence in myself. I would have had a lot more fun and not wasted so much time worrying about inconsequential things.
And now? Well, maybe I go a bit overboard with my confidence and it gets translated to arrogance.
But, if you really know me, you know that I say those things about myself in complete and total jest. And I still have my moments where I want to panic from insecurity.
I've just matured enough to shake off that insecurity and hold my head up high.
Now, please link up! And visit some of the other linkers!