Welcome to Pour Your Heart Out- if you need more info on how to participate, check out
THIS
post. But it's personal- it's what YOU think is pouring your heart out. Please grab the PYHO button or link back in your post if you are participating.
Again, just a brief reminder that everyone linking is pouring their hearts out and we should all be respectful in our comments. 😉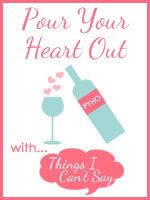 Some of my very best friends are people I've met blogging.
Some I've met in person: at blog conferences or meet-ups.
Some I've yet to meet- yet through reading each others' blogs, emailing, fb-ing, emailing, skyping, texting, etc., I feel like we know each other.
You feel like friends. You ARE friends.
Yet…
When you look at the blogosphere as a whole, it's different than if we all lived in the same neighborhood.
We don't run into each other dropping our kids off at school or have a weekly girls' night out.
We all occupy the blogosphere, but we don't all run into each other.
While I might see one side of a blogger, you might see another. Or maybe you don't know them at all. Or you mention someone that you talk to on a daily basis and it's someone I've only tweeted with once.
So, we're all in the same space and yet have different experiences with each other.
Sometimes… those experiences are not all positive.
Yet, we have to remember that we don't see the whole picture. We don't have a clue what kind of day someone is having that might cause them to say something they don't mean. Or what kind of week they are having that they are seemingly ignoring us when really, they are just buried.
Plus, we can't read tone. We can read something as fact when it's really sarcastic. Or as arrogant or unfeeling. As we get to know each other, we learn to read each other's tone.
And then there is what we hear from others about someone else. Their experience with reading someone's blog or what they feel is a hurtful comment or maybe it's a lack of comments. An email exchange, a tweet, or even a blog conference run-in.
When it's coming from someone that we feel we "know" online, we might even believe them. And end up not liking someone because of something that they said. Or even worse, something that a friend of a friend of ours said about someone.
Hold up, y'all.
We left that all behind in junior high, didn't we?
Or at least, we should have.
Instead of judging someone based on one experience that we may have misread or listening to someone else's opinion, I suggest this: go with your gut, not the gossip.
You might be missing out on a fabulous friendship if you don't take the time to get to know someone on your own.
Or maybe you'll find that person isn't someone you can count among your friends. And that's okay. It's a big blogosphere: we don't all have to be best friends.
But, there's no need to spread the hate.