Welcome to Pour Your Heart Out- if you need more info on how to participate, check out
THIS
post. But it's personal- it's what YOU think is pouring your heart out. Please grab the PYHO button or link back in your post if you are participating.
Again, just a brief reminder that everyone linking is pouring their hearts out and we should all be respectful in our comments. 😉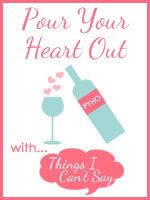 Now, this isn't Pour Your Heart Out-y in the way that it's all emotional. But, I realized it was World Breastfeeding Week. And another side of PYHO is talking about an issue you feel passionately about. So, you'll hear my thoughts on boobs.
Here's my bottom line: Your boobs are your business. And mine are my business and my husband's.


If I tell anyone my breastfeeding story, I get labeled an earthy, crunchy, granola boob-nazi. Not because I actually am one, but when you exclusively breastfeed, especially when you extended bf, assumptions get made that you must be one of those moms who will freak out on any mom who dares bottle feed their baby. And that just isn't true.
I got pregnant with baby #2 when baby #1 was just 8 months old. I was determined to still get to a year with baby #1. And we did… and it didn't seem like he was ready to stop then, though we cut down. When baby #2 was born when baby #1 was just shy of 17 months… my milk supply increased and baby #1 thought this was awesome and had no desire to quit.
So, I actually tandem nursed for about a year. Only at nap and bedtimes and just for about a minute or two and only from my side with the weaker supply for my older baby. Then, he stopped.
Baby #2 continued nursing. He stopped one day, cold turkey when he was about 18 months old. I was pregnant with baby #3 and I think because he was older when I got pregnant, he noticed the change in my milk.
Baby #3 weaned himself at about 14 months old. Again, cold turkey.
Now, I could sit here and talk about why I made the decisions I did, but that isn't really my point. My point is that I'm a mama who breastfed. It worked for my babies and for me.
But, I also have many friends and family members that it did not work for. And oh, how they tried.
I also know friends who never tried to breastfeed and never had any interest in trying.
To me, this is one of those decisions that each person has to make for themselves. While I will give my opinion about breastfeeding and tell my own stories about it- that is only IF I'm asked. Want breastfeeding advice or to trade war stories? I'm totally game. But only if you ask.
I'm not going to cram what I did with my kids down your throat, trying to convince you that you should do what I did.
Because your boobs are your business.
And you are not me and your kids are not my kids.
I can't tell you that you should breastfeed any more than I can tell you whether a time out or redirect would work better when your toddler is misbehaving. We all parent differently. I realize that some would disagree with my comparison and go there with the health benefits. But, this is my blog and my viewpoint.
Whether someone chooses to breastfeed or not is really none of my business. We never really know why someone is making the choices that they do. As long as their babies are being fed period it's not our place to judge.
And this goes both ways: whether you are a breastfeeding mom about to comment on the formula bottle in the diaper bag of the mom beside you at the playground or if you are a formula-feeding mom about to make a comment about how a breastfeeding mom should be sure to have herself completely covered at all times….
Remember that your boobs are your business. And someone else's are theirs.
If you are linking up to Pour Your Heart Out, please visit the linker before and after you. You can always visit more.