If you have never visited Pour Your Heart Out before, see
THIS
post for more information- but it's personal- it's what YOU think is pouring your heart out. Please grab the PYHO button or link back in your post if you are participating.
Again, just a brief reminder that everyone linking is pouring their hearts out and we should all be respectful in our comments. 😉
Also, the linky is what you make of it- if you link up a Pour Your Heart Out post, please make an effort to visit some of the other linkers. And even if you don't link up, visit a link or two to find some new blogs to read!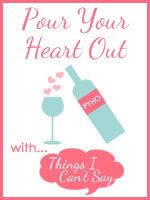 As you can probably tell from my posts so far this week, I've been on a work-out kick lately.
A big reason is because exercise does make me feel better. It's a huge stress relief and a confidence boost once I feel like I won't be out of breath walking to the mailbox am strong and in shape.
But, another reason, and the biggest one, is because I want to LOOK better. Thinner. Toned. Not just "good for having three kids" but plain old GOOD.
I embrace being a mom, but my body doesn't need to advertise that I had three kids in less than 3.5 years. The three boys practically attached to me at all times are enough of an advertisement.
But, when I look at my body, I know I don't really see what others see. Because when I look at myself, I'm much more critical than I am of others. I could see my thighs jiggling in the mirror at the gym, so now I wear yoga pants to work out. I know that underneath my size small or sometimes even extra-small top, I still have that mommy pouch that I can't seem to get rid of.
I can look at another woman and think wow, look how thin she is! Or she looks amazing!
But, if you were to put me and that woman whose shape I'm so admiring side by side, I might even be smaller. But, in my head, this is not how I see it. I see her as in shape, while I see every bit of cellulite or wobble on myself.
I'm aware that this is not healthy. This is a big reason why I rarely step on a scale. Because those numbers can affect me. Too high and I will want to beat myself up. So, I try to go by the fit of my clothing.
On Monday, I decided to step on the scale at the gym. It's been months since I have done this: last summer, maybe.
And then I promptly tweeted this: "Dear scale in the gym: I know you must be broken, but I'm going to pretend you are right. And make out with you."
I gleefully reported the number to my husband while laughing that the scale was broken. He looked at me up and down and said "Are you sure the scale is broken?"
Oh yes, I insisted. It's probably off by at least 10 pounds.
But, all I got in return was a look of skepticism. And it made me wonder: is my perception of myself that far off?
Am I still so busy comparing my body to what it was like pre-baby that I don't realize what I really look like now?
I'm not sure, but I'm working on it.