Welcome to Pour Your Heart Out- if you need more info on how to participate, check out
THIS
post. But it's personal- it's what YOU think is pouring your heart out. Please grab the PYHO button or link back in your post if you are participating.
Again, just a brief reminder that everyone linking is pouring their hearts out and we should all be respectful in our comments. 😉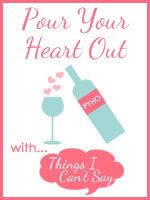 Click HERE to find out how to participate.
I spill it all on this blog, right?
I mean, that is my tagline.
And I do get really personal on here. Not just on Pour Your Heart Out days, but on a regular basis. I've talked about how hard marriage can be, my parenting struggles, depression, body image issues, sex, and more. I'm not afraid to talk about controversial issues like religion, breastfeeding, surrogacy, or working mom/sahm.
But, there are things even I can't say.
Or won't. Because either it's not my place or it simply isn't something that needs to be said.
The easiest decision for me to make was not to blog specifics about where my family lives. Though I realize that if someone wanted to dig, they could find out, to me, it doesn't make any sense to announce the names of my boys' schools or details like that.
Another thing I don't really blog about is money. I don't feel the need to discuss money on here. Sometimes I'm tempted, when someone gets some weird idea about how much they think I must have… where that idea comes from, I haven't a clue.
I also won't write posts trashing someone else. Let's be honest here. Though the blogosphere can be a really supportive place, we're not all going to agree on everything. And while I don't see a problem with posts where someone writes an opposing viewpoint, there is a big difference between that and a personal attack. Also very real: not everyone loves me. There are people whose opinions I strongly disagree with. But, I can ignore and not bring drama here. Those people aren't worth it and I refuse to drag any of you into any of that. It doesn't mean I don't get hurt sometimes and whine on skype to someone why is so-and-so so mean? I've seen blogwars happen and that is not something I ever want to be a part of.
And then sometimes, what I want to say isn't my story to tell. So, I don't tell it.
I found out something about a relative of mine two weeks ago and it completely tore me up. Not anyone who lives in my house, but someone closely related. Someone who did something I find completely repulsive. And part of me wanted to vent and rant and get support from all of you: because I KNOW that all of you would agree with my judgement of the situation. No doubt in my mind that even a single one of you would say that what was done was okay. Yet, it's not my story to tell.
I have a dear friend going through something really tough right now. I'm scared and worried for her. But, until she gets a better handle on what is going on and until she decides that she's going to share that with everyone, it is not my place to open my mouth. Even knowing that y'all would rally in support: it's not my place. And even if she decides to share her story, and even though her story affects me because I am her friend, it's still HER story and not mine.
How do you decide what you will say on your blog and what you won't?