If you need more info about Pour Your Heart Out, see
THIS
post.
But, really, it's anything that YOU consider pouring your heart out.
Be sure to check out some of the links- you will find some amazing stories out there.
Again, just a brief reminder that everyone linking is pouring their hearts out and we should all be respectful in our comments. 😉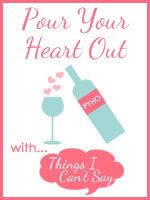 I saw one of my former students on Monday. She's now the age that I was when I taught her- 24.
We didn't get a chance to talk- I had two of my boys with me and we were on our way out of their doctors' appointments and headed to school.
But, I remember her.
She was a very cute little girl. But, labeled by all her other teachers as Trouble. Maybe even TROUBLE.
With a sarcastic mouth, sometimes disrespectful as she tried to be a class clown or the tough girl. Wearing clothes that were too short and too tight to be appropriate. Skipping school, failing classes. Rumors of parties and boys and drinking.
But, somehow, I saw more in her. I saw a smart girl who just wanted attention. Someone who wasn't sure how to get it the right way. Insecure but not wanting anyone to ever know that about her. Unsure of her place in the world. Having a mom who worked nights and had no idea what she was doing. No father in the picture. Not having the right clothes or look to fit in with the "in crowd." But wanting desperately to belong.
I was the "fun" teacher….as long as my students behaved, why have textbooks and boring assignments? I was "fun" in that we did a lot of projects and experiments(though "mean" because I did have rules). I always told my students that they pretty much had to make themselves fail my classes because it was easy to pass…and with a little effort, they could have an A. Understand that this was middle school and I was teaching subjects that weren't tested on the state standardized tests at the end of the year.
This was intriguing to this particular student. You mean, a girl who had failed classes and only got socially promoted to the next grade could get an A?
I had special incentives for her. Go ten full days to school without skipping and I'd take her and a friend to the mall. We came up with other rewards that were appealing to her to get her to try in school. I'd help her with other subjects, too, and act as a go-between when she was having trouble with another teacher.
One Monday afternoon, in the middle of one of my lessons, I saw her writing a note. I kept going with the lesson, but walked over near her. I saw the note was addressed to me and she whispered that she'd give it to me soon.
This was unusual, so I thought I would just let it go and see what came of it.
At the end of class, she handed me the note with tears in her eyes. My stomach sank.
I read. She had been at a party that weekend and had been drinking. She knew she shouldn't drink, but it was a bunch of high schoolers and she didn't want to stick out, so she was drinking. And after two drinks, she felt really weird. The next thing that she remembered was waking up in a bedroom with one of the boys ontop of her- having sex with her. She said she screamed and hit him and told him to stop. That, despite the rumors, she was a virgin before that and the boy started freaking out at the sight of blood. And now she was scared and didn't know what to do. What if she got pregnant or got a disease? Could I please tell her mom for her? But, please don't tell her other teachers.
My heart broke for her. Even though the skeptical part of me wanted to question some of her story…still, it was obvious that she was upset. And now, I had to talk to her mom.
When her mom was able to come in for a conference, one of the girl's other teachers told me "Make sure you tell her mom that she hasn't turned in a homework assignment in my class for a week." I ignored her because seriously, this was not the time.
I honestly don't remember exactly what I said to her mom. I do remember both of us crying. I don't know what else you do at news like that.
Her mom thanked me for being a good influence in her daughter's life and trying to make a difference for her, that much I remember.
I've always wondered what became of that girl. It seemed to me like she was standing at a crossroads(yes, I had to go all cliche on you). That her friends and everyone else in her life just expected that she would go down one path- the one that would lead to making nothing of her life and being a cautionary tale for the next generation of girls like her. But, she had the ability to go down the other path- one that seemed practically hidden from her, one that wasn't easy, to change.
I wonder which one she picked. I wonder if I will see her again so that I can find out. I hope that she surprised everyone and took the unexpected path.