If you need more info about Pour Your Heart Out, see
THIS
post.
But, really, it's anything that YOU consider pouring your heart out.
Please grab the button for your post and link up!
Be sure to check out some of the links- you will find some amazing stories out there.
Again, just a brief reminder that everyone linking is pouring their hearts out and we should all be respectful in our comments. 😉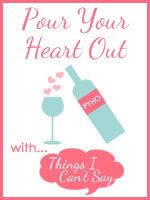 This didn't start out as my Pour Your Heart Out for the week- I was just going to post this for Mama Kat's Writer's Workshop which is on Thursday– I know, I confuse people with doing things on the wrong days….but after I wrote this, I realized that I'd poured my heart out and that maybe that was enough for this week….maybe I was a little bit spent after thinking about this…so I'm double-dipping.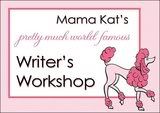 I don't like to dwell on the past. I'm a happily married woman and mom to three darlings. But, I do believe that the past is a part of making me who I am now. So, it also doesn't make sense to me to pretend like it never happened. Inspired by one of Mama Kat's writing prompts: a story with an ending of "good-bye," I'll give you a little peek into my past: about 10 years ago. Yes, I know that talking about myself in the third person is annoying, but humor me just this once.
She knocked timidly on the door to the place she had called "home" with him until the day that she'd left six weeks before.
He answered quickly and ushered her in with the grin that had melted her heart the night she'd first met him.
She looked around at the flowers and the glowing candles that were her welcome.
"I missed you," he told her.
She tried not to speak, though she did let him hold her.
She was only there to get the rest of her things. She'd known walking in that she didn't really want to leave. She loved him still.
He promised her things could be different. He promised he'd try harder. That he'd make her happy. That she was his world.
Still, she kept quiet, looking into the eyes of the one she thought she'd spend the rest of her life with. She looked down at the ring she still wore on her hand.
The words all sounded right. It was exactly what she wanted to hear.
But, she remembered the hurt he'd caused. She remembered vowing to herself to never let it happen again. She reminded herself that she was worth more than this and that she had a better life waiting for her or at least the promise of a better life. She knew the words were not enough.
She vowed to remain strong, to leave this place.
He realized he wouldn't change her mind, that he couldn't stop her from leaving. "Someday," he told her, "we'll be together. Maybe our timing just isn't right. But, there's no way that we'll never see each other again."
She wanted to cry. Did that mean he still loved her? The way that he'd loved her in the beginning, when he made her feel like the world revolved around the two of them and nothing else mattered? We loved with a love that was more than love, echoed the line from a poem read long ago.
Maybe he just needed time. Time and then they'd be together.
But, if they were going to be together someday, why wait? Why leave? Why not stay?
Her resolve weakened and she opened her mouth to tell him that she didn't want to leave.
But, wait. He hadn't asked her to stay now.
He's only telling her that maybe someday, he'll be ready and they can be together then.
Not now.
That's no way to live. To love someone who can only make some vague promise of someday.
How would it be to stay with someone who didn't want the now, only the hope of something in the future?
And so she gathered the rest of her things. As she emptied her closet, her eyes came to rest on the wedding dress hanging there, still wrapped up.
She could see his reflection in the mirror. Knew he saw what she was looking at.
"You might need it someday," he said.
"I woudn't wear it to marry someone else," she whispered. "It wouldn't be right."
"No, but you still might need it. You never know…" And he smiled.
She left the room without another word and began to take her things to her truck, fighting back tears.
It seemed like there should be more to this scene unfolding before her eyes. That it wasn't possible to end this part of her life so quickly and without much fanfare. Someone should stop this, change this, where was that magical moment that happens in the movies where everything can be made okay again with just the right words?
He held her in his arms inside the doorway of the place that used to be theirs. She closed her eyes and breathed in the smell of him, trying to remember or to forget or to freeze the moment.
She silently prayed, "Don't ask me to stay. Don't ask me to stay. I can't leave if you ask me to stay. Oh, please, ask me to stay. Ask me…don't ask me…."
They walked outside and he helped her into the truck. He held her hand and said, "I love you."
She didn't trust herself. She was afraid of what she would say if she spoke. She thought she'd fall apart if she tried to tell him what she was feeling. And she wanted his last memory of her to be that of a strong woman, not an emotional mess.
And so she merely smiled, let go of his hand, and closed her door.
She drove away from him, still fighting back tears.
When she could see the city where they'd lived in her rearview mirror, knowing she'd never go back, she let herself cry and whisper, "Good-bye."