I tend to write a post about once a week where I really pour my heart out to you.
I've written about marriage, religion, anger, the struggles I've had with my middle son, body image, and sex, just to name a few.
And I love having a place where I can get this all out.
So, I thought I'd see if anyone else wanted to "Pour Your Heart Out" with me.
Here are the Rules:
Write a post from the heart.
Something that has been weighing on you.
Something you feel passionately about.
Something you've been wanting to talk about.
A cause, a memory, a belief, a world view.
Anything.
I don't want to assign you a topic because I really want this to be from your heart.
Though, if you are stumped, read some of the posts that are linked, and get ideas from there!
Grab my new button for your post and link up!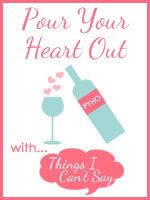 I hate that I even have to say this, but, whether you are participating or just reading, please keep in mind that the people linking really are sharing something from the heart. So, please, BE RESPECTFUL. We might not agree with each other, but we can all accept someone's right to have a different opinion than we do and NOT attack someone because of this. Play nice. 🙂
*****
A few weeks ago, after Hubs was in a scary car accident, where he walked away without a scratch, yet our SUV was totalled, part of my post that day included this little blurb:
If you would have asked us both around the 2 year mark how long we thought we'd make it, the answer probably would have been: probably not until 3 years, unless the divorce papers haven't quite gone through yet.

And then the comments and emails came flooding in.
With so many of you telling me that you went through something like that in your marriages, too.
Yet, we often don't talk about this. I mean, you don't want to walk up to the girls at the playground, plop yourself down on the bench beside them as your kids run around, and say "Hi, I'm Shell. Did you know that my husband and I almost got divorced?"
Or, even people that you know a lot better than that. I still don't want to admit it.
I worry about them looking at the two of us, judging. Looking for cracks. Betting on if we really will make it. Gossiping. Speculating about the cause of our troubles.
But, it wasn't anything scandalous. From the email conversations I had with quite a few of you, it's really common.
Adjusting to married life can be difficult. Even being head over heels in love, it's still an adjustment.
And, when you first add kids to that, it's even harder.
For Hubs and I, we went from being a spontaneous couple who had a lot of fun to Hubs freaking out over supporting us, a baby who refused to sleep for longer than 2 hours in a row for the first 6 months of his life, and me feeling lost because I no longer had friends around, and I wasn't working any mre. And then later, we had a huge move and job stress, and adding another baby to our family.
We took a lot of our frustration out on each other. (Not physically, no abuse- that's a whole different issue)
Our life together had dramatically changed. And it wasn't "easy" any more.
Isn't love supposed to be easy? Isn't that what we say to each other when we act like our marriages are perfect?
Thank God(and I do mean that literally) that Somewhere along the line, we grew the hell up and realized what it takes to make a marriage work.
It does take work.
What in your life doesn't?
Want to lose weight? You have to watch what you eat and exercise.
Want to a friendship strong? Be willing to talk/email, get together, listen, be there.
So, with marriage, there's work, too. Maybe you don't think of it as "work," maybe you cringe at that term, so how about "dedication" instead?
Making each other a priority. Listening to each other. Respecting each other. Yes, even having a physical relationship. That's the reason behind the Lovin' Challenge post that I wrote last week. If you didn't take it then, I encourage you to do it now. (Yes, I said "do it now.")
I do often wonder if we would help each other by acknowledging the struggles we've had in marriage. I know when I thought we weren't going to make it, I looked at the married couples I knew and wondered why it couldn't be as easy for us. What we were doing wrong.
When, really, I had no idea what their marriages were really like.
I actually broke down crying in my small group at Bible Study one morning over it. And do you know what? Of the 5 women at my table, 4 of them starting telling me stories about the rough spots that their marriages went through and how they came out on the other side of those struggles, knowing that they really were going to make it. And the 5th? She was a newlywed.
That helped me so much. Knowing that our marriage wasn't doomed, just because we had a really rough spot. Knowing that you can have those rough spots and make it.
So, I'm laying bare that for you today. In case you are going through a rough spot. Know that it is possible to work things out together and to have a strong marriage. Maybe even a stronger one, because you've realized that you can have fights with each other and yet still fight to keep your marriage together and win!
Hubs and I just celebrated our 7 year wedding anniversary and expect to celebrate many, many more.
*****