Next week is the ONE YEAR anniversary of Pour Your Heart Out! I have some special things planned and hope you will take part! It's not too late to donate a prize if you are interested!
If you need more info about Pour Your Heart Out, see THIS post.
But, really, it's anything that YOU consider pouring your heart out.
Be sure to check out some of the links- you will find some amazing stories out there.
Again, just a brief reminder that everyone linking is pouring their hearts out and we should all be respectful in our comments. 😉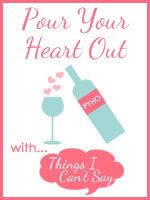 We worry about bullying with our kids. None of us wants to have a child who is bullied or who bullies.
But, here's the thing: it doesn't actually stop with kids.
We continue this as adults. I tend to call these women "motherbitches." And then I cringe because it's a vicious cycle and by me using that term, I'm being judgemental, too. Like I said, we ALL do this in some way.
We're all different. We all parent differently and oh, it starts early! Breast or bottle, cloth or disposable diapers, working mom or stay at home or work at home. Tiger moms vs lenient moms. Homeschool or public school or private school. Soccer moms or baseball moms or cub scout moms or against-all-extra-curricular moms.
It goes on and on and on and….
And then there are the mom bloggers. We take these issues and talk about them. and most of the time, or so I like to believe, we don't mean any harm- we are just talking about our own experience. But, we can seem like we are judging- whether we are or not.
And these disagreements take on a new life of their own. Plus, you add blogging issues on to the parenting ones: if someone gets more opportunities than we do or has more readers or has more comments or a better page rank or higher klout score, or whatever it is that we wish we had.
We can get MAD because we just. don't. get. it.
And we can attack without really knowing someone or trying to understand where they are coming from.
We become the bullies that we hope our children never have to deal with. And it's not okay.
I think ALL of us need to take
The Mom Pledge
. It's about pledging to be respectful of other moms' choices. About respecting different opinions, but not tolerating or feeding into those who are rude or disrespectful. It's about understanding that we are a community.
I'm not going to sit here and tell you that we ALL are going to be best friends. It's actually okay if we're not- because we click with some people and not with others. But, we CAN respect each other and stop the bullying, stop the hate, stop the mean girl act. We're mothers, not junior high girls.
Click the button and sign the Mom Pledge.
For more on bullying, check out Momma Made It Look Easy's
#itsnotokay
movement.
It makes me SO HAPPY to see women banding together and working toward acceptance, instead of tearing each other down. Because I'm fully convinced that mom bloggers can rule the world- if only we can stop fighting each other.