Welcome to Pour Your Heart Out- if you need more info on how to participate, check out
THIS
post. But it's personal- it's what YOU think is pouring your heart out. Please grab the PYHO button or link back in your post if you are participating.
Again, just a brief reminder that everyone linking is pouring their hearts out and we should all be respectful in our comments. 😉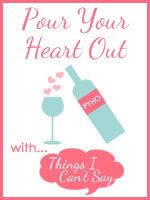 Truth time.
I like to pretend like everything is okay.
Joke around and be silly.
Have fun and act confident.
When really, I've been overwhelmed lately.
Not like having a bad day kind of overwhelmed.
Or having a busy week kind of overwhelmed.
But, completely overwhelmed. For quite a while.
Having a hard time doing everyday things kind of overwhelmed.
Paralyzed because I can't fix things.
Wishing for someone to sweep in and fix all that is wrong.
But, not able to ask for help.
Because I want to appear strong.
I'm not strong.
Something's gotta give.