Welcome to Pour Your Heart Out- if you need more info on how to participate, check out
THIS
post. But it's personal- it's what YOU think is pouring your heart out. Please grab the PYHO button or link back in your post if you are participating.
Again, just a brief reminder that everyone linking is pouring their hearts out and we should all be respectful in our comments. 😉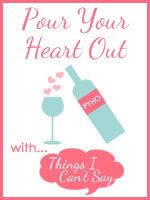 "Now we keep saying that we're okay
But I don't want to settle for good not great"
Hubs and I have been married for almost nine years. Nine years, three kids, countless moves, ups and downs.
So easy to get caught up in the day to day, taking of care what has to be done, what is the most urgent, that we don't take care of us.
Not when there are kids, work, housework, and all that day-to-day STUFF to take care of. Things that seem urgent. All the grown-up responsibilities.
We try really hard to make time for each other.
Shutting down the computers at a certain time, kids in bed early. Monthly date nights. Never ending a conversation without saying "I love you."
But…
"Oh, so on fire, so in love
That look in your eyes that I miss so much"
What happened to those nights when we stayed out til 4am talking at the beach?
The way he used to look at me.
That feeling like we were the only two people on earth.
Knowing with just a glance that we were in love.
Holding hands everywhere we went.
"I wanna feel that way
Yeah, I wanna hold you close
Oh, if you still love me
Don't just assume I know
Baby, remind me, remind me"
I have absolute faith in Hubs, in our marriage.
We are stronger together than we are apart.
He has my heart, my respect, my loyalty, my love.
But, maybe it's time for a little more romance.
What do you do when you start feeling like a boring old married couple?
Lyrics from "Remind Me" in case that's not obvious.
I've also written about how Romance is Overrated. Yes, I seem to have multiple personalities.