Join me tomorrow for a #teachat with Gevalia tomorrow 11/11 at 10am EST! Fun twitter chat: with prizes!
If you need more info about Pour Your Heart Out, see THIS post.
But, really, it's anything that YOU consider pouring your heart out.
Be sure to check out some of the links- you will find some amazing stories out there.
Again, just a brief reminder that everyone linking is pouring their hearts out and we should all be respectful in our comments. 😉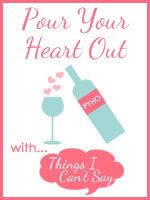 Some Pour Your Heart Outs are very serious and gut-wrenching, like the one I wrote last week about my son. And sometimes, they are a bit more light-hearted. Remember that as long as you are pouring out what is on your heart, it counts!
Last weekend, I was out and about with Monkey, running errands.
This is a small town. Near impossible to go anywhere where you don't run into someone that you know. Sometimes this is good, sometimes not.
As Monkey and I were heading into Target, I saw someone that I used to work with.
I called out to her. It took her a second or two to recognize me and then we hugged and chatted. Made plans to get together soon.
And seeing her took me back. It really is a whole different life before we have kids, isn't it?
She was the first one to suggest that I could be pregnant. We were on a long bus ride home from a field trip when I mentioned how tired I'd been lately, more than I'd ever been. And she asked if it were possible if I were pregnant. I can see that moment so clearly- because it was the first time I realized that maybe I could be.
A few weeks later, a positive pregnancy test, and she was the second person that I told about it. Hubs being the first.
The next school year, we were both transferred to the new elementary school. We shared lessons, books, and suggestions.
Complained about our insane principal and the third member of our grade-level team, who didn't know how to do the math, let alone how to teach it.
When our guidance counselor misspelled her title as "counseler" and insisted to me that her spelling was the correct one, I practically skipped down the hall to my friend's classroom to shriek with glee about this. We laughed until we were practically crying.
Lest you think that all we ever did was be mean and gossip, that isn't true. We shared things about our families. Talked about our dream jobs. She was there when I found out that my NC Mama had breast cancer. She planned my baby shower at school.
She and her daughter came to visit after I had Monkey.
Why did we drift apart? Because she continued teaching and I stopped. Because her oldest was grown and her youngest was in high school while I was just entering into the baby stages. Because I was overwhelmed by being a new mom and couldn't really figure out how to balance that with the rest of my life. And then, about a year later, we moved back to my hometown.
I've never been a big phone person. And while of course there was email six years ago, it wasn't something that she and I used to keep in touch.
But, now, I'm back and I'd love to catch up.
And now, I don't feel such a weird disconnect between who I was before I had my son and who I am now. It's a really hard thing to figure out right away. Those first couple months years of motherhood are hard. Who are you now that you are a mom? And what do you talk about, other than just your baby? How do you continue to be you and not just mom?
I far from have it all figured out. There are days when I think of myself as "just a mom." But, others, when I realize that while being a mom is a big part of who I am, I have not lost me.