If you have never visited Pour Your Heart Out before, see
THIS
post for more information- but it's personal- it's what YOU think is pouring your heart out.
Again, just a brief reminder that everyone linking is pouring their hearts out and we should all be respectful in our comments. 😉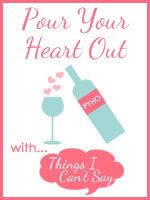 Just a quick note for this week's Pour Your Heart Out: because of the One Year Anniversary, there are prizes this week! Please see the Pour Your Heart Out prize post to see the fabulous prizes and thank the sponsors!
I can't believe that it's been one year since the first Pour Your Heart Out link up. When I started this, I knew it was something I could follow through with because I was writing these types of posts about once a week anyway, so I figured, why not add a linky and see if anyone else would like to join in!
And, thankfully- you did. Whether by linking up or by visiting other linkers. I feel like I get to know you so much better through these posts. And I love seeing the community, the support, in the form of comments and tweets on the posts- not just mine, but all who link up.
I could gush forever about how much it means to me to have you all participate. But, instead, I decided to let others speak for me today. I asked on twitter over the past few days for people who participate in Pour Your Heart Out and had them reply in a dm what PYHO means to them.
@mycrazybusylife: PYHO is a great place to tell the story you're afraid to tell & Shell is the perfect host making everyone feel welcome & loved. My Crazy Busy Life
@fromtracie: PYHO is all about realness. Truth and honesty. Sometimes raw…often powerful….always a good read. PYHO is a safe place to share whatever is laying heavy on you. The support is real and heartwarming. It is a community. From Tracie
@MrsJenBardall: It's a comfort knowing I can pour my heart out once a week & find tremendous support, then be able to lend an ear to others who need it too. The Misadventures of Mrs. B
@brunerpartyof5: It's about being HONEST with your feelings, and ACCEPTING of other people's feelings. Bruner Family Travels
@mommakiss: I love reading PYHO because I can relate to so many of the
issues, and it feels like I'm not alone. Offering support when feels good, too. Momma Kiss
@southofsheridan: PYHO is a weekly safe haven in the online world: unlimited love and support from other women bloggers without judgment. South of Sheridan

@mama_rosebud: PYHO has given me the courage to be completely honest and really connect with others by reading their comments and posts in return. Cultivating Rosebuds
@JustHeather: Love it! Reading PYHO helps me peek into other moms' worlds to know I'm not alone here. It's heart wrenching & comforting at the same time. Heather Sokol
@babesrockinmami: I like getting feedback from positive ppl & being able to open up and get it out there. I also love reading everyone else open up. It let's you see a side of people that they might not normally show but they feel safe because so many other people are sharing too. Babes Rockin Mami
@_mamajules_ It's a way to write heartfelt posts without getting judged and to seek support from others. Not that anyone should judge to begin with. All You Need is Love
@lifewithoutpink: I love reading because most of the stories touch me very deeply and you can get a real sense of who the person is behind the blog. Life Without Pink
@mamamarchand: I read because I love that others think the same way I do AND I participate because it gives me courage to say things I normally wouldn't. Mama Marchand's Musings
@StephanieG143: PYHO: A place to share your voice, your heart, your life. A way to connect, be heard, release, feel. A time to reveal, honor, respect, vent Got One Past the Goalie
@accidentallyhs: I read because: It's nice to read you aren't alone. They write what I don't have the guts to write. It's like blog group therapy. Accidentally Homeschooling
@singdwingangel: knowing that I am not alone.. and sometimes as a SAHM alone is a very common feeling… A Tall Drink of Sweet Tea
@SemiSlackerMom: It gives you support. All the comments lifting you up, meeting people going through the same things as you. Confessions of a Semi-Slacker Mom
@jmberrygirl: Some posts make me smile, while others make me cry. I enjoy reading the serious, heartfelt words. Many link-ups aren't so real. Becoming Briggs
@truthfulmommy: Pour Your Heart Out is where writers have the freedom to express their innermost hopes & fears to an engaged & understanding audience The Truth About Motherhood
Thanks to everyone who has been a part of PYHO! You are truly appreciated! I hope that you will link up this week- or, at least, check out some of the links!