If you have never visited Pour Your Heart Out before, see
THIS
post for more information- but it's personal- it's what YOU think is pouring your heart out. Please grab the PYHO button or link back in your post if you are participating.
Again, just a brief reminder that everyone linking is pouring their hearts out and we should all be respectful in our comments. 😉
Also, the linky is what you make of it- if you link up a Pour Your Heart Out post, please make an effort to visit some of the other linkers. And even if you don't link up, visit a link or two to find some new blogs to read! Tips to make the most of a linky.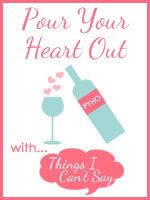 A couple weeks ago, my 4 year-old, Bear, was about to have Spring Preschool Picture Day. In caps because this was important to him. They would get to hold a baby bunny for these pics.
I mistakenly thought the pics were a week earlier than they actually were. So did a few other parents, so I'm convinced that somewhere, we'd seen the date posted as that day. He had gone to school in a cute blue polo and khaki shorts, with new shoes. He was happy and ready. But, my mama-fail prepared him for the wrong day.
Fast forward six days later: when he has a sticker on his shirt that says "I am having my picture taken on my next school day." For mamas like me who need these obvious reminders.
His teacher buckles him in and Bear turns to me with a huge grin on his face, informs me that he has pictures tomorrow and then says "I need a purple shirt for my pictures. Purple is my favorite."
To which I heaved a huge sigh. Not that I have anything against purple on a little boy. But, he had never mentioned purple. And pics were the next day.
We got home and I showed him his blue shirt, "Look at this blue shirt! You love blue!"
And then he got that look on his face. That look I know so well. The one that says he is shutting down.
So, I resign myself to going on a purple shirt hunt after we pick up my oldest. Tweet something like "On a mission to find a purple shirt for my 4y/o who doesn't want to wear anything else for his pics tomorrow. Wish me luck." No luck at two stores I'd had hope for in the mall, no luck at Target. Tweeting out my frustration.
Purple polo shirt success finally achieved in Marshalls: beaming Bear carried the bag out of the store.
But, what I thought about…while some people replied to me on twitter about how I should make him wear the blue shirt…. and when I think about how you might be judging me right now for running around like a crazy woman just to find a shirt when he had one that was perfectly fine at home….
Are you judging? Do you think my child is spoiled?
Because I probably would think that. I have my judge-y moments, I admit.
Or, more accurately, I would have thought that. Before I had a child like my Bear. Because if this had been my oldest insisting on a last minute color change in shirt for his pictures, I probably would have rolled my eyes, told him he had the blue one, and then turned back to my computer and ignored him. Issue over.
But, if you don't know my Bear, you don't know what he is like. He has various issues due to lead poisoning: complex issues that affect the way that he is able to process ideas and deal with emotions.
Sometimes, when things are "off," in comparison to how he would like them to be, he doesn't handle it well. Thankfully, this is usually in the small things. Like if Big Brother Monkey tries to sit in Bear's booster seat instead of his own. Or if his socks are feeling weird and he doesn't want to wear them. Or if he wants the pretzel goldfish instead of the cheddar ones to take to school as his snack. Or if he wants to wear a purple shirt instead of a blue one.
Little things. Things that honestly, don't upset our day. Big Brother should be in his own booster anyway. And if he gets stinky feet from not wearing socks, that's not a huge issue. Take the pretzel goldfish, they are right next to the cheddar ones. And I'll find a purple shirt.
Bear has a hard time expressing how he is feeling or if he can tell us that, he can't explain WHY feels that way. He just wants us to get it. It's very frustrating for him and heartbreaking for us.
Bear has enough that he has to work to overcome. So, if I can make things easier for him by going along with the small things that don't really matter in the grand scheme of life, I am going to do it.
I'm aware that everyone in his life is not going to be as accomodating. And when it comes down to something important or something that I can't be flexible about, well, there's nothing I can do about those things.
He does not get his way all the time or get everything he wants. He's not spoiled. Is it fair that I might sometimes say "yes" to a request from him that I might say "no" to if it was coming from his brothers? No, it's not.
But, it's also not fair that things can be so damn hard for him.
And he does look adorable in his purple shirt.