Welcome to Pour Your Heart Out- if you need more info on how to participate, check out
THIS
post. But it's personal- it's what YOU think is pouring your heart out. Please grab the PYHO button or link back in your post if you are participating.
Again, just a brief reminder that everyone linking is pouring their hearts out and we should all be respectful in our comments. 😉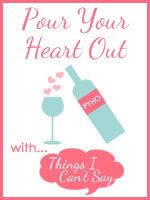 I know that all I can do as a mom is to make what I think is the best decisions when it comes to each of my children.
Those decisions might look different for each of them. And they might change from year to year… or even day to day.
My boys are all so very different. Even if they tend to look so much alike that they sometimes confuse people.
So, the choices that I make(we make, Hubs included) are with each specific child in mind. We try to do what is right for each.
That doesn't always mean that things are "fair."
Not if your definition of fair means exactly the same. Someone once commented on a post that I wrote something like "Fair does not mean the same. It means giving each child what they need."
I can't remember who wrote it or even what post it was on- but a huge thank you to whoever said this as your words have stuck with me.
We have made very different decisions for our oldest two. Our oldest headed off to kindergarten last year. He started the year already meeting all of the objectives that students need to meet by the end of the year. He was confident and ready to go. We didn't even consider not sending him to the local public school.
It's a good public school. Possibly the best of the 20 in our district. And he did really well there. He can't wait to see who of his friends would be in his first grade class. He loves his school and he wouldn't want to switch.
But our Bear is 5 and we agonized over school for him. Where should he go? Which school is right? Which program is right?
One thing I knew and these words actually came out of my mouth was that I would send him to public school over my dead body.
This was not about me having anything against public schools. In fact, I once thought before I had kids that I'd never choose a private school over a public school.
This was about knowing that it was not the right decision for our Bear. Once we thought we had a school that might be a good fit for him, I met with the Principal to discuss specific concerns. She helped decide which program to enroll him in and which teacher would be the best fit for him. I also met with that teacher before school started.
We're almost a week into Kindergarten and while I can't say anything for sure at this point, I can say that the choice feels right. That he loves going to school. "Thank you for taking me to Kindergarten, Mom!" he says. And that his teacher saying goodbye to him yesterday by saying "Okay, Handsome! I love you!" made me feel really good about this choice. He needs that warm and fuzzy.
So, he's happy and our First Grader is excited about starting his school tomorrow. Neither asked a thing about why they weren't in the same school. After all, they weren't in the same school last year either.
But, is our choice "fair?"
At orientation night for the private school, I ran into the mom of one of my first grader's friends. Her son had been in kindergarten with my oldest but she was switching him to the private school for this year. We chatted but then she noticed that I only had one of my boys with me and it was not the one she expected.
I told her that oh no, only my kindergartener would be coming here and my oldest was staying at the public school.
Eyes that went WAY wide and then narrowed, a head tilt, a grimace, lips that parted as if about to speak and then a mouth that slammed shut: that was her reaction. I knew she wanted to ask why. But, I just smiled and excused myself as the line I was in moved forward.
Then, yesterday afternoon, we were at First Grade Open House. Oldest was introducing his brothers to his TA(who was his TA last year and very well knows who they are) and he pointed and said "He's in Kindergarten. But NOT here with me!" Cue same reaction as above.
Then his teacher was asking about my other boys, what grades, etc. When I said Kindergarten, she asked who his teacher is. I had to say oh no, he goes to insert name of private school here.
Met with the very same reaction.
I know it's a choice that not everyone will understand. I know that it could be seen as not being fair.
But, I don't owe an explanation to others about the choices that I make in the best interest of each of my children.
And as for fair, I'm going to focus on that meaning that each child is getting what he needs.
Link up your Pour Your Heart Out post and then visit at least the linker before and after you.