Welcome to Pour Your Heart Out- if you need more info on how to participate, check out
THIS
post. But it's personal- it's what YOU think is pouring your heart out. Please grab the PYHO button or link back in your post if you are participating.
Again, just a brief reminder that everyone linking is pouring their hearts out and we should all be respectful in our comments. 😉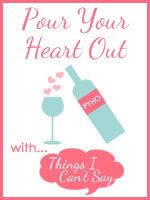 P.S. I'm traveling today. I will visit all the linkers as usual, but it might take me a bit longer this week! Thanks for joining in.
If you've been around these past few weeks, you know that I have been struggling with feeling overwhelmed lately. I was trying to figure out ways to deal with it.
And though I'm not completely through it, I am starting to feel better.
Through it all, I've realized something really important.
I have a soft place to land.
Someone who loves me through all my crazy.
My up and down moods, my crying jags, my pissed-off rants, my exhaustion, my crabbiness. The times I stomp my foot like a child and loudly whine that something isn't fair. And oh, have I mentioned the crying?
But, Hubs loves me through all of it.
I know that I'm able to vent and whine and pout and cry and he'll listen to me. He'll hold me when I need it, fix what he can, make me laugh, and make me realize that I'm never alone.
When I'm with him, I don't ever have to pretend that things are okay when they are not.
There is such peace in having someone who gets me like he does.
Yes, he was forced to wear that bright pink vest as best man at his brother's wedding last weekend.
Marry someone who is your best friend: the advice you hear over and over again. Someone who loves you for you.
And I did. Still so in love with my husband: almost 10 years since we met, 8+ years of marriage, 3 kids, countless moves, and many cranky days later.
Even when I am feeling overwhelmed, I know that I have this amazing man as my husband. The good days, our friendship, and our love get us through it all.
A-hem: feeling the need to add- I'm not always difficult and Hubs isn't always easy. There's no good guy/bad guy here. Just a balanced marriage where we support each other…which is why our marriage works!