If you need more info about Pour Your Heart Out, see
THIS
post.
But, really, it's anything that YOU consider pouring your heart out.
There isn't ever a theme or topic that you have to blog about- it's completely a personal thing.
Please grab the button for your post and link up!
Be sure to check out some of the links- you will find some amazing stories out there.
Again, just a brief reminder that everyone linking is pouring their hearts out and we should all be respectful in our comments. 😉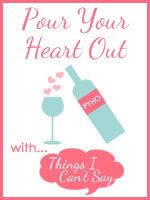 I usually can let things roll right off my back.
Laugh them off, because it's better than crying.
And, if it's something I can't change, why bother getting all stressed out about it?
But, every once in a while, it all seems to pile up and bury me. I get overwhelmed.
And it might even appear to those who don't know me very well that it was something vey small that seemed to set me off and cause me to have a breakdown of sorts.
But, it's the sum total of a bunch of things, both big and small, that can crush me.
In no particular order, I'm going to tell you what led me to being emotionally spent last week. Most of these things on their own wouldn't have been enough to do it. But, all of them together was too much.
I found out very sad news about my sil. That I can't share.
It was the kind of hot where you can't breathe.
I had to break horrible news to one of my favorite people on the planet. I think it's actually the hardest thing that I've ever had to tell someone. Perhaps this is a post in itself, but I'm not up to it right now. It might be next week's PYHO, if I can ever wrap my head around it.
Someone I thought was a friend totally trashed me for no other reason than that it's the cool thing to do to go along with a group.
I miss my best friend. Last summer, we got to see each other at least once a week, sometimes more. And I could just drop by her house any time. I haven't seen her since October because we moved.
I feel lonely.
Hubs promised me a super-cool birthday present before he really knew if he could pull it off- and he couldn't. Not a big deal, but I wish he hadn't told me about it like it was already a done deal.
My boys were spending too much time together and it was leading to nasty fights. They love each other, but only if they can actually get a break from each other.
Our air conditioner wasn't working right.
Our dvr is busted.
I spilled milk on my blackberry so I couldn't talk to anyone.
My house was a mess and I was feeling too overwhelmed to do anything about it.
I felt fat.
I wondered if I had actually made the right decision about Bear's preschool. If you are new here, he has some challenges which makes it harder to find the right school.
I questioned if maybe I should find a way to work because then both Bear and Monkey could go to the private school where I'd most likely be able to get a job.
Someone very close to my family is very sick. Again, no details with this one. But, it's scary and if she can't get better…well, I just don't want to think about it. She's way too young for this.
My mom yelled at me for not driving 600+ miles for a bridal shower.
Cub had bizarre stings on him that I have no idea how he got and I must be a horrible mom if I don't know how he got them.
Hubs asked me at the last minute to make a dinner for his friend's family, since the wife just had a baby. This, I wanted to do, but at the last second and having to turn on the oven in a house where the air conditioning wasn't working didn't sit well with me.
Monkey is testing me all. the. time.
I got snubbed by the moms in my boys' swim class for a reason that's so stupid, but it's common in this town.
I lost my car keys and my purse. I found them, but not being able to find them was stressful.
I really wanted a gyro and the place that makes really good ones closed 5 minutes before I got there.
Bil snapped at me for not having what he wanted to drink stocked in our house.
Now, you might look at that list and roll your eyes and think that none of it is a big deal or that a few of them are a big deal, but that I should have been able to forget about the rest.
And you're right. Some of the things on that list are so silly that it's ridiculous for me to even mention them. But, when they come on top of the bigger things and all come at once- it's just too much for me.
I shut down.
Or I cry. And it looks to the world like I'm crying my eyes out because my dvr is busted or I can't have a gyro. But, that's not it at all.
It's the sum total of all the suckiness that gets me.
I did manage to pick myself up out of that funk. By crying, venting(thanks to some of you who put up with my whiny emails last week), spending time with my kids, getting to spend time alone, having a Hubs who knew I was feeling like this. It all helped.
But, sometimes I feel like it all could come crashing down again- that feeling of being totally overwhelmed and wanting to shut down.
Does that happen to you? How do you get yourself out of it?
Could you please vote for me in the Not Mom of the Year contest? One vote per day. If you missed my post, you can read it
HERE
.
THANK YOU!!!!