Welcome to Pour Your Heart Out- if you need more info on how to participate, check out
THIS
post. But it's personal- it's what YOU think is pouring your heart out. Please grab the PYHO button or link back in your post if you are participating.
Again, just a brief reminder that everyone linking is pouring their hearts out and we should all be respectful in our comments. 😉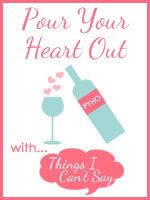 Motherhood is easy. Being a mom comes naturally. You'll instinctively know what to do for your children.
Oh, the lies that we are told and that we tell ourselves.
I love my children. When I first held my oldest when he was a teeny little newborn, I was overwhelmed with love for him.
I knew I was meant to be a mama.
And I wouldn't trade it for anything.
But, damn, is it hard sometimes.
I don't always know the right thing to do with my kids. I lose my temper. I screw up.
My kids screw up, too. Because none of us is perfect.
But, I can get fooled by the illusion of the perfect mom with her perfect kids.
The one whose kids are smiling their way through Target in completely spot-free and coordinating outfits. The mom is smiling, too. And wearing an outfit that I would love to wear, if only I had the fashion sense to put it together and the money to have it in my closet. They breeze down the aisle past me, happily chatting away, not a care in the world.
Meanwhile one of mine is crying because he doesn't like his seat in the cart, another is watching inappropriate youtube videos that I still can't figure out how he managed to find on my phone, and the third is pouting and shooting everyone dirty looks. One has his crocs on the wrong feet and another has his shirt on inside out. I'm pretty sure that I slept in the tank top I'm wearing and I'm so tense that I'm pushing the cart along as fast as I can, clutching the cart with white knuckles.
I watch that perfect mom and her perfect kids turn the corner and think why can't that be me? Why can't it be easy?
She can do it. She has it easy. I must be doing something wrong.
But, luckily, I can remember: that's only a snapshot of time.
Sure, her kids are being angels and she looks amazing.
And yes, my kids are driving me insane and I'm in desperate need of a wardrobe overhaul by Tim Gunn and a big glass of wine.
But, it's just a snapshot of time.
That perfect family might have gone home only to have the kids decide that it was time to get all that energy out. Maybe one colored on the walls while another decided to try out the dirty words he heard on tv, and the third had a diaper blowout so nasty that it ruined even the mom's outfit. Her husband is going to be late and she's going to have to deal with bedtime on her own. She pours a glass of wine by 4:30.
And mine can go home to make a fort behind the couch, tell silly stories, and actually get along. I can watch them have fun and get dinner ready, laundry folded, and relax a little bit. With my glass of wine at 4:30.
But, I tend to focus on what was hard about the day.
I judge my parenting by all the bad moments. And someone else's by the good moments that I see.
That's not real. None of us has it easy all of the time.
And thank God, all of us have good moments, too. Moments when we can think this motherhood thing is easy.


Just don't buy into the lie that it's always easy. And stop beating yourself up when you have a rough day. I'm going to try to cut myself some slack, too.
And don't tell other mamas that it's always easy, either. That's just asking for one of your kids to have a meltdown in the middle of Target on your next trip.




If you link up, please visit at least the linker before and after you.