If you need more info about Pour Your Heart Out, see
THIS
post.
But, really, it's anything that YOU consider pouring your heart out.
Be sure to check out some of the links- you will find some amazing stories out there.
Again, just a brief reminder that everyone linking is pouring their hearts out and we should all be respectful in our comments. 😉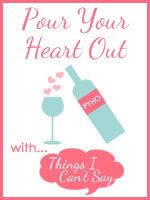 Apparently, I have a problem with reading a calendar and didn't realize when I registered to go to Type A Mom that it was the week before my brother's wedding. I somehow thought there was an extra week in between September 24th and October 1st. Sadly, the calendar won out and I was wrong.
So, that put me getting back from being away at the conference for three days….to needing to pack up and leave two days later. As you are reading this, I'm most likely visiting family.
Such crazy timing has put me in a mood to have a random heart pouring. All the things that are weighing on me right now.
Maybe I should have blogged about the conference first, before continuing my story about my past, because that felt draining. Good, but draining. Thanks so much to everyone for your supportive comments about my story. Posts about the conference are coming, though, I promise.
This week, I'm visiting family and friends for the first time since we moved almost a year ago. I'm excited, but also stressing as to how I can possibly fit everything in, since we will only be there from Wednesday until Sunday morning…and I have the rehearsal dinner on Friday night and the wedding on Saturday, so that really doesn't allow a whole lot of extra time. I wish that I could really get to spend time with everyone that I want to see, but I just don't see how it's possible.
My boys absolutely cannot wait to see my best friend's boys. Which is a total blessing, since I can't wait to see her, either. I loved when we lived close and got to see each other every week. She understands me like no one else does. Everyone needs a friend like that.
I planned a night out with my margarita girls. Love them, but it feels weird because I haven't seen them in so long and we haven't been great at keeping in touch. Part of me is hurt about this, but another part of me knows that it's just as much my fault as it is theirs. And no, they don't know about this blog.
Totally stressing about Monkey's cat allergies, since my parents have a cat and his eyes now instantly swell up if he's anywhere near an animal these days. Bright red little slits for eyes will not be attractive in the ring bearer for my brother's wedding.
When I say parents, I really mean my mom and my stepdad. Though, I will be seeing my father and his wife at the wedding, too. I haven't talked to them in over 4 years. By my own choice, because I decided it was the best thing to do for my kids. I'm worried that they are going to cause a scene.
Though, while we're at it, my mother could cause a scene, too, since she hates that we moved away again.
I'm happy for my brother that he is marrying someone that he loves. I really hope that their day is all that they imagine it to be and that everyone remembers that it is their day and only about them.
*I'm probably going to be a little absent this week since I'm away, but I will catch up with everyone when I can….and next week if I don't get any computer time while I'm away.
Please link up your Pour Your Heart Out posts: whether you are talking about one topic or you need to get a bunch of random things out like I did this week- remember it's your definition of pouring your heart out. Please take the time to visit some of the other linkers to share in their stories, too.