If you need more info about Pour Your Heart Out, see
THIS
post.
But, really, it's anything that YOU consider pouring your heart out.
Be sure to check out some of the links- you will find some amazing stories out there.
Again, just a brief reminder that everyone linking is pouring their hearts out and we should all be respectful in our comments. 😉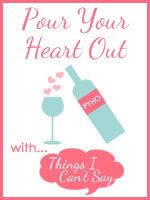 I always love my husband.
But, sometimes, I don't like him.
The little things get to me. Maybe even some big things, too.
Going back "home" to visit family and friends last month didn't help. Because I realized just how much I missed everyone. And was jealous that he had that all the time. And though I made the move last year, knowing what I was leaving behind and also knowing that it was best for my family, it doesn't stop my feelings that I'm the one who really made a sacrifice with our move, while it made his life easier and better.
Add to that all the time that he works. Even though I appreciate just how hard he works for us, it's still hard when he's gone for most of the time that our children are awake. And when you aren't spending much time together, it's sometimes hard to remember why you like your spouse.
Or, you know, stupid things like how he does a half load of laundry that is just HIS clothes, instead of filling up the washer with the dirty clothes that are sitting right beside the washer. Or drinking the last Mountain Dew. Or using my shampoo.
So, I've been sort of crabby with him. And he's been crabby right back.
Then, the weekend before last, we went to a festival. We brought the boys with us and walked around for a while.
But, then, we took the boys to mil's house.
And went back to the festival.
Alone.
We walked through the festival and went to a restaurant to eat. We sat out on the deck, overlooking the water. Ordered drinks and our favorite crab dip.
And we talked. About silly things. Things from before we had kids. Things from before we even met. Saw people out on the water, kayaking. And made plans to do that soon.
We went back down to the festival to listen to music. Watched couples dancing. Hubs suggested that it would be fun for us to take swing dance lessons.
Something happened as the day wore on.
We actually started to like each other again.
Smiling, laughing, making plans.
We picked up the kids and headed home. Stopped to get a movie that we watched that night, cuddled up together.
It was a good day for us. And a great reminder to me that we have to make time for each other, so that we don't just love each other, but like each other, too.
Ironically, I wrote this post yesterday afternoon…all full of love and sparkles…and then he irritated me last night. Go figure.
Tell me: what do you do when you are still in love, but not in like? How do you get that lovin' feeling back?
Please try to link up below- if it isn't working for you, leave the direct link to your post in your comment and I will add you here.