Welcome to Pour Your Heart Out- if you need more info on how to participate, check out
THIS
post. But it's personal- it's what YOU think is pouring your heart out. Please grab the PYHO button or link back in your post if you are participating.
Again, just a brief reminder that everyone linking is pouring their hearts out and we should all be respectful in our comments. 😉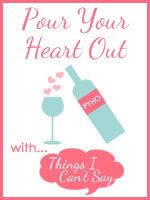 I'm a girl who likes her sleep.
Not just likes it, but loves it. Needs it.
Not a few hours, but a full night's sleep.
Or I get cranky and miserable.
So, those nights up with a newborn were torture for me.
I lived in a fog, trying to figure out when I could get some rest.
And then once my babies were old enough to sleep through the night, oh, how I loved that. Slight bumps with teething or illnesses or nightmares could put me in a bad mood.
And my bed? Well, it's MY bed.
Oh, and Hubs's bed, too, of course.
Small children invading and stealing my pillow, blanket, and space is not high up there on my list of things that make for a good night's rest. Kicks and failing arms, snoring…. nope. Get back in your own beds, kiddos.
Well, except when Hubs is out of town. And then I occasionally make an exception.
Except that lately, our youngest has been finding his way into our bed in the middle of the night. And I don't want to get up to move him back.
And our middle comes down when he wakes up at some unholy hour of the morning and cuddles.
I look at their sweet little faces… those cute little noses, the fluttering eyelashes, the soft skin, the crazy hair….
Their little heads buried against me or Hubs. Arms around us.
And I realize… this won't last much longer.
Already, my oldest only occasionally wants to sit in my lap or snuggle in to watch a movie.
They are getting so big, so fast.
Soon, they'll scoff at the idea of sharing a pillow with mom.
They won't fit in my lap or even want to be there.
They'll be too big for me to carry them when they fall asleep in the car on the way home.
They'll retreat to their own rooms and lock the door, wanting their own space.
They'll roll their eyes at the idea of snuggling mama on the couch.
Maybe I'll be lucky and they will still give me a kiss and a hug… as long as their friends aren't around, anyway.
But, these moments when they want to want to sleep in mommy and daddy's bed… they aren't going to last much longer.
I'll take little boy cuddles over a full night's sleep.
Because soon enough, I'll be kept awake by the antics of teenagers.
So, I'll cherish these moments while I can still get them.
So let them be little 'cause they're only that way for a while
Give them hope, give them praise, give them love every day
Let them cry, let them giggle, let them sleep in the middle
Oh just let them be little -"Let Them Be Little," Lonestar