If you need more info about Pour Your Heart Out, see
THIS
post.
But, really, it's anything that YOU consider pouring your heart out.
Be sure to check out some of the links- you will find some amazing stories out there.
Again, just a brief reminder that everyone linking is pouring their hearts out and we should all be respectful in our comments. 😉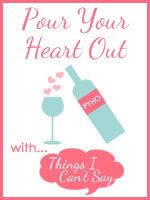 Last week, I wrote about how I felt left out at Bible Study.
But, it got me thinking about how I could unintentionally make someone else feel left out.
You see, here on my blog and even on twitter, I'm "loud."
I say what I think, I talk to tons of people. That talking is in the form of leaving blog comments, replying to comments and tweets, but it's talking.
No problem with public speaking or if I have a specific topic to talk to someone about. Hand me a microphone and I can speak to a packed room, no problem. I'll probably even tell you that I don't need the microphone and do a silly dance for the crowd while I'm at it.
But, if you were to meet me IRL…in a small talk type of situation…I'm quieter. Much quieter.
I like to take things in and I'm not always the first one to jump into a conversation. Especially if there is a group of people standing or sitting together: that group might very well be incredibly welcoming, but it takes a lot for me to join in.
At the Blissdom conference that I'll be attending next week, there will be a TON of bloggers. And I'm so excited to hang out with them. There's my roomie, plus a bunch of girls who I've exchanged phone numbers with, girls that I met at previous conferences, and some I've been tweeting with for a while.
We either have plans to meet up or when we bump into each other, I know we will be doing that squealing and hugging girl-thing because it's exciting to meet someone IRL that you've gotten to know online.
And so, if you were to see me at Blissdom, you might find me in a group of girls, all chatting away. And it might seem like I'm clique-ish. That I have my friends and am not interested in talking to anyone else.
Or you might see me tweeting on my phone or trying to write a post for Famecrawler, which I still have to keep up with while I'm away. I could look like a standoff-ish snob.
But, neither is true. At all. I want to meet as many people as I can while I'm at Blissdom.
I'm going to try to remember that this goes both ways: that if I see a group of women all talking to each other, it just means that they are excited to have met- it doesn't mean that they wouldn't be just as happy to talk to me.
And that this doesn't just apply to Blissdom, but to everywhere else, too.