With just a little over a week left until Christmas, I'm not done with my shopping.
Okay, I'll admit it- I barely even started.
I'm not sure what to get for my boys: they have plenty of toys and there doesn't seem to be any certain thing that any of them wants this year. Just toys in general, with the exception of oldest, who is in the middle of a Lego obsession.
I've been asking on twitter and facebook for suggestions. I think Hubs and I Santa will just have to wing it in Target and Toys R Us at the North Pole.
But, as I was scrolling through facebook the other day, I noticed that a friend's status was asking for suggestions for her boy who is very much like my younger two, so I clicked through to the comments to see if I could steal any of the gift ideas.
Instead, I was irritated.
SIGH.
It's things like this that make me say I hate facebook. It seems to bring out the crazy. Or at least, the unwanted opinions. Maybe it was jealousy that led her to go on the attack like that. Maybe she doesn't know how she'll even give her child one simple gift from Santa, so the idea of someone buying such expensive presents upsets her.
I know what it's like to wish that I could give more to my kids.
But, I don't see any reason to judge what someone else puts under their Christmas tree.
Now, I'm looking back up at those gift suggestions and I'll be honest: most are out of my price range.  Santa is always kind to my boys but in our house, Santa has his limits.
But, I don't begrudge anyone who has the means to go all out for their kids. I think if "Santa's magic" could make these presents appear, my oldest would be swimming in Legos, my youngest would get his own computer, and my middle son would get an iPad just so I could stop the mom-guilt that hits me every time I see that just about every other kid in Occupational Therapy has one and he doesn't.
And those wouldn't be the only presents under the tree. I might even be tempted to throw in a few of the least desirable Christmas gifts under the tree, too, just to make the boys smile. We might have a mountain of gifts for each kid to open.
And then Santa would leave an iPad for me, too. And then we'd donate even more to Toys for Tots and the Angel Tree at church than we usually do, just because we could.
But, that kind of Christmas is not what we'll have. We'll still have plenty of toys for our kids to enjoy. And they'll still probably stop opening gifts as soon as they find something they really want to play with, as they have in years past, when we have had to encourage them to look and see what else they were given.
They'll have a wonderful day and won't feel like they are missing out.
And if your house, if your children are getting "spoiled" as judged by the above facebook status, well- that's your right and your decision.*
We each celebrate in our own ways.
Christmas is supposed to be about love, after all.
*Though if you do have the means to go all out, I do believe you should donate something to Toys for Tots or a similar organization. And there's me judging. Never said I was perfect. Put me on Santa's naughty list for it.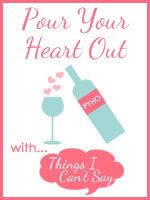 If you are joining us for Pour Your Heart Out, please grab the button from the sidebar and then add your link below. Don't forget to visit other linkers, too.