And what do you do? 
It's such a common question.
For a while, my answer was "Oh, I'm just a mom."
Just a mom.
Like I was passing it off as not much, like I couldn't possibly be busy. Like what I do isn't important because I don't have an official job title or paycheck.
At different times, I've had work-at-home jobs. And part of me really liked being able to mention those, as if it made me a more valuable or interesting person to talk to because I was more than just a mom.
But, as the years have passed, and I've been just a mom for so long, my perspective has changed.
It's not something to be ashamed of or something that should be said with an apologetic tone in my voice.
Being just a mom is what I want to be.
Do you know the nightmare that this fall would have been if I hadn't been home to pick up my 5 year-old every time he had a rough day at school? If I hadn't been able to take him to his 2-3 occupational and speech therapy appointments every week?
But, I'm just a mom. I never dreamed during all those times I sheepishly admitted that was all I did that one day, I'd be so thankful for the "just."
At some point, Hubs and I figured I'd go back to teaching-most likely when our youngest is in school full-time. But, that's next fall.  But, we need more time to be sure that our Bear will be okay. And I'm thankful for and love the time that I get to be here with all of my boys.
So, I'll stay just a mom for a while longer.
And be here for every moment: whether it's the tough stuff or the sweet, frustrating, fun, repetitive, special, or every day. In my life as just a mom, I get to see it all.
I know that to some, that seems really boring: I assure you, I'm never bored. And to others, being just a mom is something they wish they could do: trust me when I say that it has taken a lot of sacrifice to make it possible.
Though what someone else thinks of my choice to be just a mom is their own opinion and doesn't have anything to do with the choice that my family has made.
The choice that I'm completely happy with.
Even in the midst of Winter Break craziness when my boys are trying to kill each other, Hubs is out of town, and I don't get a break- I know that the right choice for me is to be just a mom.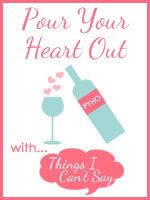 Find out more about
Pour Your Heart Out
. Grab the PYHO button from my sidebar to add to your post and then add your link below. Please visit other linkers, too. Remember: everyone linking is pouring their hearts out, so be supportive in your comments.