Please Note
: this is Pour Your Heart Out. If you are looking for the Magic Moments linky where you can win a $400 Canon Camera or one of three $50 gift cards, you can find that
HERE
.
Welcome to Pour Your Heart Out- if you need more info on how to participate, check out THIS post. But it's personal- it's what YOU think is pouring your heart out. Please grab the PYHO button or link back in your post if you are participating.
Again, just a brief reminder that everyone linking is pouring their hearts out and we should all be respectful in our comments. 😉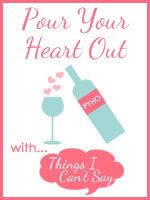 I keep thinking that we just moved back here to NC. But, the reality is that we've been here for almost two years.
When we first moved back, I was really trying to get to know people here. We weren't right back where we had lived before. I joined moms' groups. None of that really went all that well, but I was trying.
Then, after 6 months, we moved towns and were back where we lived the last time we lived in NC. I had friends here before… but some have moved away and others are just busy: they are teacher friends of mine who are still teaching.
I've tried Bible Study, joining the gym, and moms' groups. My kids are in soccer… but when you have three kids in three different places during practice, it's not like you get to talk to anyone for more than a minute or two.
Hubs has his friends because this is where he grew up. This is a weird town where you have your locals who seem to love to reminisce about high school… and of course I wasn't here then. And then you have your military wives… and while I was friends with some when I was teaching, it seems that the ones that I am meeting who are sahm/wahm are NOT interested in someone who isn't a military wife.
And so, here I am: not local, not military. I don't fit into either group.
And I miss my friends.
I miss my Margarita Girls: our kids used to have playdates back before they were old enough to be in school. After preschool got in the way of easy playdates, we still managed to have monthly nights' out, usually with cheap margaritas, plenty of venting, gossiping, and supporting each other.
I miss my friend Jen. We ran the moms' group at our church and were bonded by all the craziness that goes along with running a group of 100+ women.
I miss my friend Angie. We'd been friends since we were four years old. Though we lost touch at different points during our lives, we always managed to come back together and pick up where we left off as if no time had past. She is the type of friend that I could just randomly stop in at her house with no notice and our boys played well together while we could chat for hours.
I miss my friend T.(his real name, I'm not just being a punk and not sharing his name) He was my best friend in college and we were always there for each other. I miss the way that he could always tease me out of a bad mood. And the way that he was always a straight-shooter with me.
I miss my brothers and their families. My family may be extremely dysfunctional when it comes to my parents, but my brothers and I have been through it all together. I miss seeing my older brother's kids growing and hanging out with my fabulous sils, too.
Here, I have my boys and my husband. My boys are wonderful and I love my husband so much.
But, I'm still lonely.
Thank God for blogs, twitter, email, and skype, right? Thanks to all of you who make my life a little less lonely. Want to come move to my neighborhood?