Welcome to Pour Your Heart Out- if you need more info on how to participate, check out
THIS
post. But it's personal- it's what YOU think is pouring your heart out. Please grab the PYHO button or link back in your post if you are participating.
Again, just a brief reminder that everyone linking is pouring their hearts out and we should all be respectful in our comments. 😉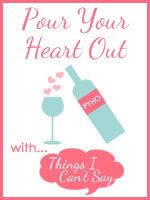 Sometimes, I just don't want to talk about it.
About the things that are stressing me out.
While venting can help and writing things down sometimes makes me see things in a new light, there are times when I just don't want to.
Instead, I want to bury my head in the sand or put my hands over my ears and sing lalalalala or smile and pretend it's all okay.
So, that's what I'm going to do today.
It might not do anything to help any of the situations weighing on me.
But, it will get me through the next few days.
And maybe, just maybe, things will get better.
For that hope, I am thankful.
Please note: I'm visiting with family over the next few days. If you don't get an immediate visit or response, know I'll be back next week.