If you need more info about Pour Your Heart Out, see
THIS
post.
But, really, it's anything that YOU consider pouring your heart out.
Be sure to check out some of the links- you will find some amazing stories out there.
Again, just a brief reminder that everyone linking is pouring their hearts out and we should all be respectful in our comments. 😉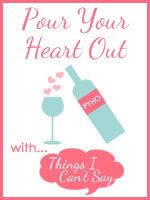 My place, my space, my little corner of the world to be me.
That is what this blog has become to me.
Where I can say whatever I want, whatever I'm thinking or feeling or feel like writing about. Where I don't have to be Hubs's wife or my boys' mom or any other label you want to throw at me. I'm just me.
Because I don't have people IRL bugging me about it, asking questions, judging.
That is what I wanted and that is what I got.
For a while, at least.
Now…I'm not sure what I have.
You see, when I started blogging at Babble's Famecrawler blog, that caused my husband to see my little blogging "hobby" or timesuck or addiction or whatever else he has called it as an actual job.
Giving it credence, weight, importance in his eyes.
Enough so that he decided to tell people about it. Whether it was telling them about Famecrawler(where there is a link to this blog in my bio) or directly about this blog…
I feel violated.
It's my hope that most won't care enough to even take a look. Or, if they do take a look, that they only glance around once and then leave and never come back. After all, if you don't blog, you don't really get it, anyway.
I still hate that what Hubs said to me was that I had written some "interesting" (yes, add all the sarcasm and irritation you want in that one word and you still won't reach the level I heard) posts recently and that that was what people he told were going to see.
And I had an immediate thought to change what I had intended to post, to hold off on posts I had in draft.
To not be me.
Because, you see, if my intent had been for this to be a blog for everyone in our real lives to read, then yes, it would be a totally different blog.
It would be a "lite" version of me. While there hasn't been anything that I've written that would get anyone in trouble, I still wouldn't put it all out there if there was a chance that something would be thrown in my face by acquaintances. It's not things that I share with someone that I only ever say "hey" to and nothing more.
I even thought briefly about deleting my entire blog. I was angry. Because this was not his to share. This blog is mine. I've put an insane amount of work into it.
To not realize that opening his mouth about it without my permission would jeopardize all that I've built….
I felt like I was losing my place.
Don't worry- I'm not really going to delete my blog or let this defeat me…