If you need more info about Pour Your Heart Out, see
THIS
post.
But, really, it's anything that YOU consider pouring your heart out.
Be sure to check out some of the links- you will find some amazing stories out there.
Again, just a brief reminder that everyone linking is pouring their hearts out and we should all be respectful in our comments. 😉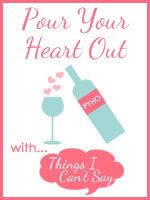 I was walking around outside yesterday afternoon barefoot.
Yes, in February. It was a beautiful day here in Eastern Carolina.
I've never been a fan of the cold weather. Ever. I always wanted to move somewhere warm. And now, I'm here. I've spent approximately 8 of the 12 years since college graduation here…though not in a row.
And yet, more often than not, I feel like I don't belong here.
We live in a town where everyone is either military or local. We're not military. Hubs is a local, but I am not. I can't relate to the military wives when they are talking about their husbands deploying for 6 months or a year: I don't even like when Hubs has to go out of town for a day or two. And I can't follow the conversations about the people that Hubs and his friends all know from back in high school.
But, this is where Hubs needs to be. His family is here, his friends are here, and his job is here. This is his home and I am his wife: therefore, this is where I am. He fits, it's his home. And me? I'm not even Shell, I'm just J's wife.
I don't know where I'd chose to be if the choice were entirely up to me, anyway. I miss my family and my friends from back home, but I hate the weather and the family drama gets old quick. Though, having friends that I could go out with is something that I do miss. Having people who can see me for me, I miss.
My husband and my kids: they will always come first to me. But, there are times when I long for something more.
I've written a little bit about this before, if you want to check out A Glass of Identity. Though, Ash at Shades of Blue and Gray wrote a story last week where a line from it about the character just being the wife of another character really hit me and made me think about these things again. She's a fabulous writer and you should go read her.