Welcome to Pour Your Heart Out- if you need more info on how to participate, check out
THIS
post. But it's personal- it's what YOU think is pouring your heart out. Please grab the PYHO button or link back in your post if you are participating.
Again, just a brief reminder that everyone linking is pouring their hearts out and we should all be respectful in our comments. 😉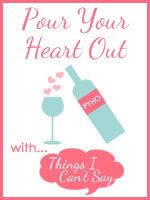 Starting in the afternoon on any given day on twitter, you will see tweets like these:
Can't wait for #wine o'clock!
Kids driving me crazy. #sendwine
I see tweets like that every day.
Hell, I SEND tweets like that a lot, too.
It's not any secret that I love my wine. And my fruity drinks. And the occasional Corona.
I tend to joke that I'm not really a lush, I just play one on twitter.
But, it's not really a joke for some. For some, it's a real problem.
I've seen how addiction can tear a family apart. I've lived with addicts.
My father is an addict. He started out addicted to prescription pain meds after having multiple surgeries in a short period of time. Addiction is addiction, even if it's "just" prescription meds. While he wasn't really a drinker, he did occasionally sneak a beer when he couldn't get something else. And yes, sometimes that was while he was driving us kids.
He made various claims throughout the years about being clean and sober, but my brothers and I always knew the truth. It's the main reason that my children don't know him at all: why I haven't spoken to him in over 5 years. It was one thing for me to tolerate his behavior, but I will not expose my own children to it.
My stepfather is a recovering alcoholic. Yes, he still says "recovering" even though it's been over 30 years since he last had a drink. He's an amazing man and as far as my kids are concerned, is their only "Grandpa" on my side of the family.
So, yes: I've seen what addiction can do.
I'm the daughter of an addict and the stepdaughter of an addict and yet: I drink.
It might be as frequent as several glasses a week. Or maybe it's just one glass twice a month. Or maybe I'm taking part in some rare girls' weekend away and it's more than that.
But I know that I do not drink too much.
I know that I'm not in danger of becoming an alcoholic.
I'm honest with myself and know my own limits.
A daughter of an addict CAN drink responsibly the same way that someone with no family history of substance abuse can become an alcoholic.
Just remember that if you see me tweeting "Thank God it's bedtime! #MamaNeedsWine" I might only mean it as much as I mean "Dear @gypsies, now accepting offers for my children. #CheapRates."