If you need more info about Pour Your Heart Out, see
THIS
post.
But, really, it's anything that YOU consider pouring your heart out.
Be sure to check out some of the links- you will find some amazing stories out there.
Again, just a brief reminder that everyone linking is pouring their hearts out and we should all be respectful in our comments. 😉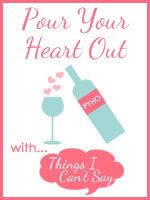 I'm spending four nights away from my kids. I feel so bad. I shouldn't leave them. I'm going to be so worried about them while I'm gone and checking in on them every 10 minutes.
Mom Guilt tells me that that is how I should be feeling right now. That spending four nights away should make me feel bad and frantic about leaving my kids.
But, I don't.
So, instead, I feel guilty that I don't feel guilty.
I know I'll miss my boys(and my husband) while I am at Blissdom. But, I also know that I will have a blast and learn a lot. And I am rarely away from my family, so why should I feel bad about this?
Why do we moms convince ourselves that we don't deserve the time away? And why do we get a judgement of "bad mom" if we get excited about time away?
My husband has to travel for work sometimes. He also takes short trips that are just for fun. Does he agonize over leaving us? Does anyone expect him to?
No, we say that he need needs a break, that it's good for him with all the stress he's under.
Well, guess what? Moms have stress, too. Moms need time for themselves every once in a while, too.
And we shouldn't have to feel bad about it.
I could rationalize right now and say that this is a "work" thing that I'll be gone for. And that is partly true. But, it's also a whole lot of fun.
Plus, I think that if a mom needs to take a few days and go somewhere, anywhere, every once in a while, that no one should make her feel guilty for it or make her feel like she has to have a good excuse for doing it: if you have a spa week planned with the girls, go for it.
I love my boys and husband more than anything on this earth. But, it's NOT selfish to occasionally want "me time." It's human. It is a need.
Do you feel bad when you spend time away from your family?
Thanks again to LeadCheck for sponsoring me to Blissdom and allowing me this break! If you have not checked out their at home testing kits for lead, please do so.