Before we get started, please remember to cast your daily vote for Mason Samuel. He's in the fourth row from the bottom. If you voted yesterday, you'll have to wait until after 10:30am EST to vote again today because that is when the radio station resets. Thanks so much! Vote
HERE
.
*****
If you need more info about Pour Your Heart Out, see
THIS
post.
But, really, it's anything that YOU consider pouring your heart out.
Be sure to check out some of the links- you will find some amazing stories out there.
Again, just a brief reminder that everyone linking is pouring their hearts out and we should all be respectful in our comments. 😉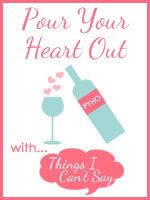 *****
Are you tired of hearing me say that I'm moving this week? Because I'm tired of it.
This isn't a big move. Just about 30-45 minutes away. Not life-altering like some of the other moves I've made in my life. This one is only a pain in that we have to get everything packed up and leave the beach. But, there isn't any other drama associated with it. I'll tell you about a few of the moves I've made where it wasn't an easy move like this one.
There's a difference between moving with lots of boxes and moving with lots of baggage.
The day after my 22nd birthday, I moved 600+ miles away from home to accept a teaching job in a place where I had only spent one day. I wanted to be sure that I had a job and I'd always wanted to live on the beach. But, then, once I got to my new place(yes, I even managed to find an apartment in that one day that I'd spent there, just 3 miles away from my school), I started to panic, thinking, what the heck did I do? I don't know anyone here. I don't even know where anything is here! And that was in 1999, when you couldn't just ask your smart phone for directions. I didn't even have a cell phone in those days.
I panicked because I doubted myself. Could I really teach? Could I, the complete introvert, meet new people? Or was I just going to spend all my time when I wasn't at work correcting papers, watching tv, and reading? Not that that is a bad thing at all, but the thought of not having anyone to talk to ever was scary.
That turned out to be a great move. I found friends who were like family. And found out that I could be an amazing teacher. And I developed a lot of confidence because of it. It didn't hurt that I moved into a huge military town where all I had to do to get asked out was to leave the house.
The next big move I made is what I refer to as the "lost year" or "the year I pretend didn't happen" because it is the year that I moved with my then-fiance to upstate NY, where I again didn't know anyone, except for him, of course. I was worried because it was a lot of change all at once. Moving somewhere I'd never been. Moving in with someone. That someone having just gotten out of the military and trying to figure out what he was doing with his life. Starting a new teaching job, this one in the inner city.
That move was a disaster. And so, the next big move I made was actually less than a year later, back to NC. That was a hard move because, at the time, I thought myself to still be in love and I didn't really want to leave; I just made myself because I knew it was the best thing for me. But, leaving and then returning to the same place, especially to people who knew why I'd left in the first place, was really difficult.
Looking back, I realize that it was the right thing to do and I was being strong in making that move, at the time: I felt like a failure.
Though, it was soon after that when I met Hubs. So, all of my dramatic, life-altering, cross-country moves happened to lead me to him.
But, hopefully, we're done with the dramatic moves.