If you need more info about Pour Your Heart Out, see
THIS
post.
But, really, it's anything that YOU consider pouring your heart out.
Be sure to check out some of the links- you will find some amazing stories out there.
Again, just a brief reminder that everyone linking is pouring their hearts out and we should all be respectful in our comments. 😉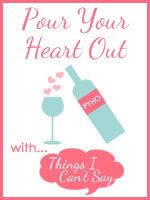 ****
This is an old memory. Something that happened almost ten years ago. But, a walk on the beach the other night brought it back and then digging into one of my old journals confirmed the details, which I remembered with surprising accuracy.
It was a Wednesday in August when I ended my engagement to X. Our relationship had been over for a while, but we were both stubbornly holding onto the idea that maybe we could work things out and neither of us would officially call things off.
But, I decided to because it just hurt so damn much.
Ending felt worse. And yet, I still went to work the next day, trying to pretend like nothing had happened. I somehow got through the school day and got all my students to their buses at 2:10.
Then, I went to my truck, grabbed my beach bag, threw on my bikini, and drove to the most secluded beach in the area.
I sat on my blanket, staring out at the ocean, alternately crying and feeling strong. The waves crashing and soothing my broken heart. The vastness of the ocean making me realize how small I was in the grand scheme of things and how small my problems were. And then, alternately, I would feel alone and hurt.
Even though it was the quietest beach in the area, there were still some people around. Mostly young Marines who would try to come flirt with me. I was my hottest self back then, long blonde hair, perfect figure, tiny bikini. Yeah, I hate me, too.
I shot each one down with a comment ruder than the one I'd used on the last guy.
Until he came along. He had the palest blue eyes I'd ever seen, along with hair so blonde it was almost white. It was obvious from his build that he was a Marine, too. Oh, the muscles on him…
He greeted me with a slow smile and approached as if I would break if he got too close. He said, "You look like you could use someone to talk to."
I angrily retorted that I just wanted to be left alone. But, he just shook his head and said, "I think you need to talk and I have the time to listen. Just take a walk with me, that's all I ask."
And, he extended his hand to help me up and held it out there as I stared at him, internally debating, for a few minutes.
I think it was his patience that won me over, continuing to hold out his hand and not otherwise pressing me. I still don't know why I decided to go with him.
I put my hand in his and we walked along the shore. I poured my heart out to him, crying a little. He listened.
He helped me gather up my things and walked me back to my truck. As I put my hand on my door to go, I caught sight of my naked ring finger and started to tear up again.
He caught my chin in his hand and turned my face to look at him and said, "You'll find someone so much better. Someone who will make this guy seem like the loser he is for letting you go." And then he asked me to meet him again the next night at the beach.
I went, despite some reservations. I went because it felt better than staying home and crying alone. I went because I secretly hoped that X would call while I was gone and my roommate could tell him I was out on a date. I went because I wanted to feel normal again.
He was there waiting for me, with a blanket spread out on the sand and a bottle of wine open. We talked until nightfall.
And then he pulled me to my feet, hummed an unidentifiable tune, and danced with me on the sand, in the moonlight.
And I began to have hope again. That my life wasn't over because my first true love had ended. That there were other men out there, ones who would love me, too.
I never saw him again after that. He had just gotten out of the Marines and was on his way back home to Minnesota the next day. Though we talked a few times after that and he asked me to come visit him, we never saw each other again.
I think that he came into my life for that brief period of time to show me that it was possible to move on. So, to Gabriel, wherever you are: thank you.
If you must know why I never saw him again, you can read that HERE.