If you need more info about Pour Your Heart Out, see
THIS
post.
But, really, it's anything that YOU consider pouring your heart out.
Be sure to check out some of the links- you will find some amazing stories out there.
I totally stole the "#th Glass" thing from my good blog buddy, Chelle from The Winey Mommy. Why didn't I think of that? Love you, Chelle!
Again, just a brief reminder that everyone linking is pouring their hearts out and we should all be respectful in our comments. 😉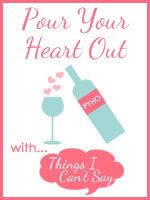 *****
Yes, I'm actually going to write a little about my faith today. I've done it before, about how I don't judge anyone based on what they believe or don't believe. If you want to read that, you can go
HERE
.
I grew up in the church. Eventually, my faith became a personal thing to me: a choice that I made to believe in God and not just going through the motions.
I was actively involved in my student ministries group and even went to a Christian college where going to chapel was part of our requirement to graduate. We were taught everything from a Christian perspective(some classes more than others, but it was always there).
I was a student ministries intern at a church and did a lot of volunteer work with my church, including heading a moms' ministry.
I tell you this because I want to make it clear: I know what I'm supposed to say. I know what I'm supposed to feel, think, and do in order to try to live my life the way that God wants me to.
I know how to talk the talk.
But, I don't always walk the walk.
If you read my post this weekend, about the loss of little Ethan, you know that instead of praising God in all things, I sometimes yell and question and cry and bitch and moan.
Yes, and say the word "bitch."
But, I also think that God knows my heart.
He knows how I feel.
To spout words that feel empty to me…well, it just isn't me.
I pray about this. I know that I don't have the best "walk."
And that that might make someone look at me and judge: who does she think she is, calling herself a Christian? When she questions God instead of praising him? When she says things that you'd never hear in the Bible?
Would you rather that I pretend like I'm perfect and I never screw up and spout all the "right" words that I've heard preached, even though they conflict with how I really feel?
Should I tell you that I always live according to how the Bible wants me to? When you know that's not true. So, you'd call me a liar and a hypocrite and point to me as yet one more example of why you stay away from the church.
I'm me. I say things that aren't always the "correct" thing to say. Instead, I say how I really feel. And I hope that by me admitting to my faults and telling you how I struggle and yet still telling you that I love God and know that He loves me…well, I hope that means something more to you than the "right" words.