If you need more info about Pour Your Heart Out, see
THIS
post.
But, really, it's anything that YOU consider pouring your heart out.
Be sure to check out some of the links- you will find some amazing stories out there.
Again, just a brief reminder that everyone linking is pouring their hearts out and we should all be respectful in our comments. 😉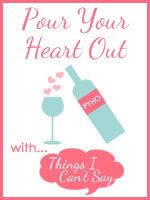 Do you ever feel completely out of place?
On Saturday, my mil watched our three boys from the afternoon until the following morning. So, Hubs and I had a big chunk of kid-free time.
We did some window-shopping and then went to a high school play-off soccer game. Felt like back when we were dating!
And then, we went to party at the house of a friend of his.
Here is where I felt like a big out-of-place old loser.
I was the only female over 30. Probably the only one over 25, but I'm trying to make myself feel better.
The only mom.
The only female not in skinny jeans or jeggings, paired with a stylish top and boots.
No drinking for me because I never, ever drink ha, I know you won't believe that because someone had to drive.
And so, I also was not joining in with the beer pong tournaments or the dancing. Or the conversations that were full of slurred nonsensical words and screaming to be heard over the music.
I kept thinking that we could never get away with a party like this at our house, with people hanging out in the garage and driveway, with music blasting. We're in a quiet family neighborhood. People would complain about the noise.
So, I felt out of place. After all, everyone else around me was having fun, and what was I doing? I probably stuck out like a giant loser.
But, I quickly shook that off. Not a loser, just different.
I might not be dressed like the other girls- but none of them had spent the afternoon at the Bounce House with their kids. Plus, it was cold and I wasn't trying to impress anyone.
I wasn't loud and flirty. Like I would have been in my early twenties. But, I'm married. I know who I'm going home with.
Even though I was probably viewed as boring, I didn't have to let that get to me.
It just wasn't my scene. When I was younger, I probably would have let this all get to me, to feel some sort of "peer pressure" to fit in. But, at this stage in my life, that does affect me any more.
I CAN have fun. I've been known to drink, dance, play games, talk too loud, and laugh a lot, too. When I want.
It made me miss MY friends. Where I might sometimes even been viewed as the loud one, the one suggesting what we do next, the one doing some sort of crazy dance even though she can't dance, the one talking silly nonsense, the one with the never-empty glass.
But, that night wasn't the right night for me. After all, someone had to get up in the morning and go pick up our kids.
Maybe the next time we are around that group of people, I will fit in more. Or maybe I'll still feel out of place. But, I'm okay with that, as long as in whatever I do, I make my own choices.
At this point in my life, the thought of peer pressure or trying to conform feels more than just a little bit silly.
Being in this situation, it was easy to see and roll my eyes at trying to fit in just for the sake of not feeling out of place. But, then I realized that it needs to extend to other areas of my life. Like whether or not I fit in with the other moms at my son's preschool. And suddenly, it's not as clear-cut.
Do you ever feel pressure to do something or act a certain way to fit in?