I may joke around a little that I need a special prayer, a babysitter, and wine to get through the winter break.
And I might sometimes feel like I'm losing the last bits of my sanity and that I will forever be stepping on legos, Mighty Beans, and Trash Packs(have you seen those gross little things? I don't even get what you do with them).
But, really: I'm enjoying the winter break with my boys.
Even though they still get up way too early for my taste, there is no rush to get everyone dressed, lunches and backpacks packed, and out the door on time. We're on our own schedule.
It's not a big deal if they and I want to stay in their our pajamas or let's be honest, just their underwear, all day.
I might read "If You Give a Dog a Donut" 50 times each day. And have to figure out how on earth their new toys work while reading the directions that all look like Greek to me. And break up fights because the boys are having too much togetherness with no breaks from each other.
But, I also get sweet kisses that smell like the peanut butter fudge that the little sneaks found and ate for breakfast. And I get hugs and smiles and hear giggles and can let my boys just be.
During winter break, my home is loud and messy and chaotic… anything but peaceful.  But it's full of my boys.  So, I'll take it- chaos and all.
And maybe I'll stop complaining that winter break seems to last forever.
What are you enjoying the most during your winter break?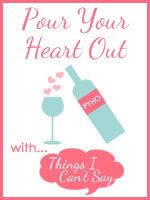 Find out more about
Pour Your Heart Out
. Grab the PYHO button from my sidebar to add to your post and then add your link below. Please visit other linkers, too. Remember: everyone linking is pouring their hearts out, so please be supportive in your comments.