If you have never visited Pour Your Heart Out before, see THIS post for more information- but it's personal- it's what YOU think is pouring your heart out. Please grab the PYHO button or link back in your post if you are participating.
Again, just a brief reminder that everyone linking is pouring their hearts out and we should all be respectful in our comments. 😉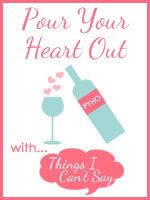 Please grab the button code from the memes tab.
I don't know how you do it all.
I hear that a lot. Do you?
Three small kids, the house, the husband, working from home, cooking, cleaning, blogging, twitter, keeping up with emails, and yet still having a life(and by life, I mean going to the gym, the grocery store, and all the places that I have to for my family- a mom's life).
I have two responses when someone says I don't know how you do it:
I don't sleep.

I don't do it all.
The first is only sort of a joke. I'm often up way too late, trying to get one more thing done.
But, the second is the reality.
I don't do it all.
I do a lot. But, it's never everything that I need to do. It's all a balancing act and determining which ball I can drop or put off juggling for a little bit.
From Friday through last night, I've been running non-stop: from a field trip for my kindergartener to a playground with my boys in the afternoon to a date with my husband on Friday and then I was out of town from Saturday afternoon until last night for #GEMomsperience(which was incredibly fabulous- but not a "Pour Your Heart Out" post so I'll tell you more about it another day).
Oh, and while we're adding to the insanity, let's throw in Blogger's crazy issues last week that still hasn't restored all of my comments from last Thursday and didn't allow me to post a BFF on Friday.
So, BEHIND is what you would call me. Even more right now then when I am being
THAT MOM
.
Instead of doing it all, I put out fires. What really needs to be done.
I couldn't tackle Mt. Clothesmore last night, but I could ensure that my boys had clean clothes to wear for school tomorrow. (Thanks to @oneandonlyoka for that term!)
I haven't been on email, twitter, or blogs much since last Wednesday. And while that tends to make me feel bad and guilty… I had to let go of that and think well, I'll just start fresh today.
Not having enough energy to do a truly heart pouring post today- there's always next week. Pour Your Heart Out Lite this week.
No gym for a week- I'll start again tomorrow.
Somehow, what needs to be done will get done. It won't be perfect and my to-do list will never end, but I've learned to laugh when someone implies I do it all.
And not to feel guilty when I can't do it all. I never expect someone else to do it all, so it's only fair to cut myself the same slack.
No more guilt.
Do you do it all? (I'll try hard not to call you a liar if you say YES) Do you feel bad when you can't do it all or have you let go of the guilt?