If you need more info about Pour Your Heart Out, see
THIS
post.
But, really, it's anything that YOU consider pouring your heart out.
Please grab the button for your post and link up! Any linked posts without the button or at least a text link WILL BE DELETED. Not to get all mean and harsh, but some people are abusing the linky, so I've had to go to this rule.
Be sure to check out some of the links- you will find some amazing stories out there.
Again, just a brief reminder that everyone linking is pouring their hearts out and we should all be respectful in our comments. 😉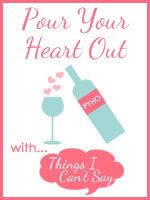 Not all of those we consider family are related to us by blood.
Some we are lucky enough to inherit through marriage.
And some people become so important in our lives that it is like they are family.
My NC Mom is that to me.
I first met her over 11 years ago, during my first year of teaching. I was the Language Arts/Social Studies part of our team and she was the Math/Science part.
Never once did she complain about being saddled with a first-year teacher as her partner. She helped me through those first days of school, helped with planning, and stayed after school for hours with me, talking not just about school, but about everything.
I got to know her, to know how strong of a person she is, going through all the challenges in her life. These are not mine to share, but there has been a lot, and she came through it all.
When my place was flooded by a hurricane, she let me stay with her for the month or so that it took for my place to be livable again.
She understood when I fell in love, got engaged, and moved away to NY. Nothing but support.
She was there when that relationship fell apart. Listening and being encouraging.
When I knew I had to leave that relationship, but wasn't sure where I was going to go or what I was going to do, she told me to come move back in with her and her son. Not to even worry if I didn't have a job yet, that I would be able to get one once I was back.
And I did find a teaching job back in the school she worked at, though I didn't know that until after the decision had already been made to move there.
She listened to me and was supportive as I worked through all my emotions about that relationship ending. And then when I tried to start my life over.
Her son became like my brother. And that is what we told people we were, since I would pick him up from soccer practice or drop him off at friends' houses. Just the easiest way to explain why a 24 year-old was hanging around a 14 year-old.
I lived with them for almost two years. Never once did NC Mom expect a dime from me.
I moved out when I got married. NC Mom lit the taper candles for both me and Hubs for our unity candles at our wedding. She had known Hubs since he was in middle school.
In everything that has happened since I met her, she has offered nothing but encouragement and understanding.
My boys call her Grammy.
She moved to NY two years ago, but she is in town visiting this week and I'm very much looking forward to spending time with her. At a time when things are hectic for my family, being around her quiet, calm strength will be a tremendous comfort.
I'm thankful to have "family" like her.