If you have never visited Pour Your Heart Out before, see
THIS
post for more information- but it's personal- it's what YOU think is pouring your heart out.
Again, just a brief reminder that everyone linking is pouring their hearts out and we should all be respectful in our comments. 😉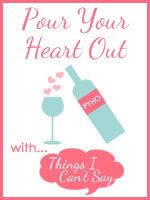 Before I start, I just want to say that I am very thankful for the opportunity to work from home. I'm not complaining about having a job nor am I saying that I have it harder than someone who has to work outside the home. If you have a need to tell me to stop my whining and realize that you have it harder than me, I ask that you please read this post first to better understand where I am coming from.
I've been a work-at-home mom now since December. My job is pretty fabulous- I get to blog about celebrity/entertainment news, which is fun and always provides me with small talk. Like Why the Hunger Games Will Be Better Than Twilight or The Real Reason Russell Hantz Cried When Voted Off Survivor. Fun, right? Clarification, since some people seem confused: if you click on any of these celeb links- they are NOT on Things I Can't Say- they are on Babble.com- which is my job.
It's made my husband see this whole blogging thing as something worthwhile, where he use to just see it as a giant timesuck. Paycheck=credibility in his eyes.
And my job is flexible. I have a certain amount of work that I need to do each day, but that's really the only requirement. So, if I have appointments or want to go to the gym or need to do things offline, I can figure out a way to make it work.
But.
But.
But.
This is still a job. It is still work. It is still an additional demand on my time.
What I wasn't really prepared for when I became a WAHM:
*Because I work from home, it is assumed that I should still be able to keep up with the house. After all, I'm at home all day. So, why are there dirty dishes in the sink? Why is there a mountain of dirty laundry? Why isn't dinner ready yet?
*When you work from home, you are always at work. There is no leaving things at the office. I love how flexible my job is. Because yes, I could be getting work done at 1am if I need to. Drawback? I'm often up then, working. Hubs comes home from work tired and relaxes. My job really doesn't have a clear ending point to the day because I can always do more.
*One of my favorite parts of having a job is that for the first time in almost 6 years, I'm bringing in a paycheck! But, it's funny how quickly this wahm paycheck goes from something extra to help out to being a total necessity. Especially when your special needs child needs to attend private school next fall. So, it's added stress to keep bringing in that paycheck.
*My job is often not taken seriously. One, because I work from home and two, because of what I do. I get a lot of eye rolls. I assure you, this is still a job. With work required. Yes, even though it's fun to write about why the Grey's Anatomy musical episode might not be a trainwreck afterall or the Army Wives spoilers for Sunday night, it still takes time.
*There are days when I feel like all I do is tell my boys "Not right now, Mommy is working." Yes, I get to be home with them, but trying to find that balance is harder than you might think. And when your kids are as young as mine, when they need your attention, they usually need it right now. Or you know, they go into Daddy's office for five minutes and do this to the walls:
Yes, that's paint. And, it's NOT washable.
But, I guess that I should have realized that this would be hard. Being a work at home mom. So much of motherhood is hard and takes getting used to- this isn't any different.