Welcome to Pour Your Heart Out- if you need more info on how to participate, check out
THIS
post. But it's personal- it's what YOU think is pouring your heart out. Please grab the PYHO button or link back in your post if you are participating.
Again, just a brief reminder that everyone linking is pouring their hearts out and we should all be respectful in our comments. 😉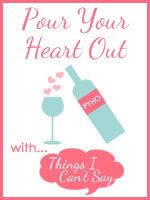 Grab the button on my "Memes" page- click the tab at the top.
Last week, in addition to back-to-school stuff for my oldest and hurricane readiness, I was dealing with another sort of pain.
A physical one. This involves womanly parts, so if that offends you, you can stop reading now.


My breasts ached. I couldn't figure out if it was worse to wear a bra and have to deal with the pressure or to not wear one and have them unsupported. I'm not big by any stretch of the imagination, but they felt swollen and heavy. It was an all-over ache and heaviness.
The slightest movement caused me to cringe. If I rolled over in my sleep, I'd wake up because it hurt when they pressed into the mattress.
I've felt like this before. A little over seven years ago.
Back then, it was the final clue that hey, I could be pregnant.
But, we are done having kids. Our youngest is entering preschool this week, we've given away almost all of our baby things, and are ready to move on to the next stage of parenthood. And oh yeah, Hubs had a vasectomy two years ago.
And so, I tried not to think pregnancy could be the cause. We're done. I've made peace with this. I really don't want to be pregnant again.
And oh Dear Lord, if I were pregnant, I can just imagine people whispering about whose baby this is, since there are certain people who would jump to the conclusion that I had an affair rather than assuming that something had not quite worked with Hubs's vasectomy. Assholes.
So I went on with my week, trying to pretend it was nothing. Even staying away from google.
But, on Thursday, I was at the store grabbing up hurricane supplies and I figured that I might as well grab a pregnancy test. Just to be sure.
As soon as I got home, I took the test.
I stood over it, waiting for the results, feeling anxious.
It will be negative, I just know it. This is nothing.
Probably just my crazy hormones.


But what if it's positive?


No, I won't let myself think that.


We're done having babies.


And then I read the result:
Negative.
No baby for us.
But, while I was mostly relieved….
I was shocked to discover that there was a small part of me….
That was a little disappointed.
Because I knew that if I had been pregnant, yes, I would have freaked out for a little while. Maybe even shed a few tears about the thought of diapers being a part of our lives again. We've been making some plans for things we want to do in the next year or so: a baby doesn't fit in so well with these plans. So, there would have been some shock.
But, I also knew that if that test result had read positive, we would have been happy about it. That a baby would have been a blessing, something to celebrate.
We're not going to do anything crazy and try to have another. We are done.
But, this made me realize just how many mixed emotions I have about there being no more babies for us.
Are you done having babies? How do you feel about your decision to be done?
Btw, according to Dr. Google, my soreness was most likely a result of hormone fluctuations coupled with an increased caffeine intake.