Two weeks from now is the ONE YEAR anniversary of Pour Your Heart Out! Trying to get some fun things planned! If you are interested in donating a prize, please let me know.
If you need more info about Pour Your Heart Out, see
THIS
post.
But, really, it's anything that YOU consider pouring your heart out.
Be sure to check out some of the links- you will find some amazing stories out there.
Again, just a brief reminder that everyone linking is pouring their hearts out and we should all be respectful in our comments. 😉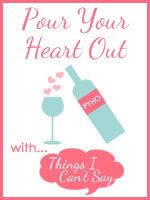 Here in NC, once it's March, it's usually spring weather. My boys went to school in shorts and short sleeved shirts the other day. It's warm!
Sometimes cliches are cliches for a reason: with the start of Spring, I look to new beginnings.
What I want to do, what I want to change, what I have to look forward to.
A time to think about what in my life is good and to give thanks for those things and those people.
But, it's also a time to look at the things in my life that I could get rid of. A spring cleaning of a different kind.
Things that take up too much time that don't really serve any purpose, things that drain me, frustrate me, piss me off: out you go!
It's time to get rid of the negative. Because I'm looking towards the spring, towards a new direction.
And I'm excited about it!