If you need more info about Pour Your Heart Out, see
THIS
post.
But, really, it's anything that YOU consider pouring your heart out.
Be sure to check out some of the links- you will find some amazing stories out there.
Again, just a brief reminder that everyone linking is pouring their hearts out and we should all be respectful in our comments. 😉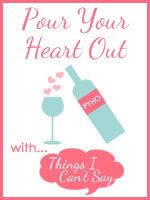 We are into the holiday season now. Thankgiving, Christmas, New Year's. It all goes so quickly.
Throw a birthday in there for one of my boys, one of my brothers, my mil, plus a visit from parents and my sil being due with a baby, and it's a crazy time.
Holidays usually equal family time. And… y'all, mine could be its own reality freak show with all the drama that goes on.
But, I've decided that today, I'm going to look for what I love in my family instead of what drives me crazy. In honor of Thanksgiving, I'm going to be a glass half-full kind of a girl.
I'm thankful that my older brother B has grown into a mature and caring man. He loves his wife and child (and baby on the way) with a passion that I rarely see in anyone. And I'm eternally grateful that he married a woman that I am proud to call my sister.
I'm thankful for my younger brother A, who is now a newlywed. He is the most level-headed person I know…until you tick him off. And when he's mad or *I* am mad or hurt or upset in anyway, there is no one else that I'd rather have in my corner. He'd take on the world for those he loves. And he married well, too.
I was trying not to step on my sil's train or fall off the steps in my heels and break something, so yeah, it's a little bit of a weird pose, but the only one of my two brothers and me(and obviously my brother's wife) from when we were together for the wedding in October.
I'm thankful that I have brothers whom I can feel close to, even though I no longer live near them. I miss them, but I love that we are all happily married and building our families. And that, despite whatever craziness is around us, us kids stick together.
I'm going to try to remember all this during the craziness of the holidays. And if I can't, well, I'll take that half-full glass and DRINK it. And then pour another.