If you need more info about Pour Your Heart Out, see
THIS
post.
But, really, it's anything that YOU consider pouring your heart out.
Be sure to check out some of the links- you will find some amazing stories out there.
Again, just a brief reminder that everyone linking is pouring their hearts out and we should all be respectful in our comments. 😉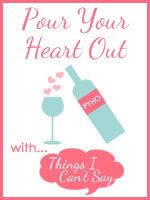 Plenty of people cry at weddings.
And so, I didn't look crazy when I started to cry at my baby brother's wedding this past weekend.
But, I wasn't crying tears of joy at the happiness of the new couple…though I was happy for them.
I wasn't crying sweet tears in memory of my own wedding day…though that was a wonderful day.
They certainly weren't tears of sadness, thinking that the couple shouldn't be getting married…because they are an adorable couple and so in love.
I wasn't even crying because I wasn't in the wedding. I actually did get over that. Yes, my dress was so much better than the bridesmaids' dresses. Though, my heart did sink at the rehearsal when I discovered that my stepsister was doing a reading in the wedding. But, that is not why I was crying. I was totally the bigger person. Yes, I want a cookie or something for that.
So, why was I crying?
Because as I looked at my brother and his bride saying their vows, it hit me.
They are starting a new life together. If her father gets his wish, they will start having babies soon.
And I won't be there for any of it.
Oh, we can talk on the phone and email and facebook. But, I'm not really there. I'm the one who will swoop in once a year for a visit.
But, that means I'm not there for the day-to-day. To be there as a part of the family. For the spur-of-the-moment get-togethers, being able to just drop in on each other, babysitting each other's kids, holidays, birthdays.
I looked at my niece, so cute in her flowergirl dress…how much she'd changed since I'd last seen her almost a year ago. And my other sil, pregnant and due with a boy in January.
I'm missing so much.
When I go to visit, I'll have to be introduced every time, "This is your Aunt Michelle, who lives in North Carolina. Do you remember her?" and have that question be met with blank stares and pulling-back.
I want to be a part of the family.
As insane as my mother makes me…OMG, if I started blogging about the crazy stuff she pulled in the few days I was there, I might not ever be able to stop….but that aside, I miss my brothers and their wives and their children. And my stepsister and her family. There are six cousins- I have the oldest and the youngest- so they are all so close in age(until the baby is born, of course) and I wish my boys could grow up close to their cousins.
But, a move back there is not in our future. At least, not in our foreseeable future.
And so, I cried during the wedding for all the moments that I will miss.