If you need more info about Pour Your Heart Out, see
THIS
post.
But, really, it's anything that YOU consider pouring your heart out.
Be sure to check out some of the links- you will find some amazing stories out there.
Again, just a brief reminder that everyone linking is pouring their hearts out and we should all be respectful in our comments. 😉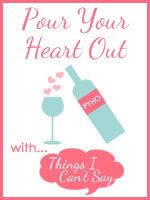 Today is my husband's birthday. He is 32.
Yes, I'm 33 and older than he is. Like 14 months matters. Even though he loves to tease me about being older.
I asked him on Sunday night what he wanted to do for his birthday. He just sort of shrugged it off.
Hubs doesn't usually shrug off birthdays. They are a big deal. In fact, the first time that we did anything together outside of work(I'm not really calling it a date because it wasn't really) was for his 23rd birthday. Tons of people out to dinner, the whole standing up on a chair in the middle of a restaurant while everyone sang to him sort of thing.
So, I wondered what was up. "You're not old you know. You're just 32."
"But, I haven't really accomplished anything with my life," he responded.
I replied, "But, you're only 32. You still have time."
I guess it's all in how you measure success.
Do we have friends who are our age or younger who have more than we do? Absolutely.
More toys, more awards, more STUFF.
But, I think that Hubs has accomplished a lot.
He's been my husband for seven years. Seven years of marriage- ups and downs, but we have made it through together.
He's the father to three beautiful, smart, hilarious little characters. Our boys love their Daddy.
He's loyal to the end to his family. BIL might sometimes get on my very last nerve and messes up sometimes, but Hubs is always there to support him or give him a kick in the butt if that's what is needed. He's a very loving and protective son, too.
A great friend to everyone. He'll always help out or be there for anyone.
He works hard to support us. He may not be where some of his coworkers who started at the same time as him are- but that is because he was gone for 4 years, moving with us to another state, and has only been back for about 6 months, while they have been there continuously.
I feel bad about that one. Maybe if we'd never left, he would be at that same level and feel better about where he is. Then again, if we had never moved away, I'm not sure what would have happened with our family.
It's all in how you define success, I guess. How you come to the conclusion that you have made something of your life, whether you have accomplished something or not.
In my eyes, my husband is a success. He has accomplished a lot. I just hope that he will see the value in the things that he has done and can realize that the rest of it can come someday, but it's not what matters most.