If you need more info about Pour Your Heart Out, see
THIS
post.
But, really, it's anything that YOU consider pouring your heart out.
Be sure to check out some of the links- you will find some amazing stories out there.
Again, just a brief reminder that everyone linking is pouring their hearts out and we should all be respectful in our comments. 😉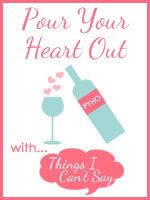 This post is not what I thought it would be.
You see, my mom is coming for a visit tomorrow. I planned to tell you about the problems that she and I have had. Because they go beyond normal mother-daughter problems. I get a headache just thinking about them and was worried that I would need to do a whole series to explain the insanity.
But, then, I remembered another time when she was coming for a visit and I made a comment about how stressed out I was about her coming. And an aquaintance, who does not know any of the details of the insane and hurtful things my mother has done, immediately cut me off and told me that I wasn't allowed to complain because I still had my mom and she did not. That if she still had her mom, she would never complain.
I was left without anything to say.
This is not the post where I say that yes, we should be thankful that we have someone in our lives no matter what they have done for us and we should try to make amends. No, that's not this post.
Because, you see, I've tried. And forgiven more than most people can believe.
But, instead, what this post is….is a reminder that we all have our struggles. We all have something in our lives that is a challenge, something rough for us to deal with.
It's not fair to tell someone that they don't have the right to complain because you think you have it so much worse than they do.
I was reading someone's blog several weeks ago and she was talking about her child's illness and felt like she needed to put a disclaimer in there saying she knows that she should feel lucky that her child is alive and that there are those who have lost their children, but that her child's illness is still something really hard for her family.
There will always be someone who has it worse than we do. And sometimes, that can make us thankful for our blessings.
But, other times, we need to remember when we hear someone talk about their difficulties that they are hurting, too. That though we might not think much of their troubles, to the person who is going through the struggle, it IS a big deal. We haven't walked in their shoes, we don't have their lives, we don't really know what they are going through.
We all have our own problems. No, they might not be all that bad when we compare them to the worse case scenerio, but that doesn't make them easy to get through.