If you need more info about Pour Your Heart Out, see
THIS
post.
But, really, it's anything that YOU consider pouring your heart out.
There isn't ever a theme or topic that you have to blog about- it's completely a personal thing.
Please grab the button for your post and link up!
Be sure to check out some of the links- you will find some amazing stories out there.
Again, just a brief reminder that everyone linking is pouring their hearts out and we should all be respectful in our comments. 😉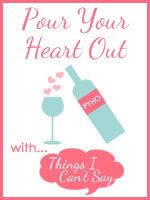 I am J's wife. In a small town where he grew up and everyone knows him, that is my identity. His wife. My title, the way I'm introduced, the way people know who I am.
I am my boys' mom. It's seldom that I go places without them. At their schools, at a playdate, at the park, I'm their mom.
Those are roles that I treasure. I love my husband. I love my boys.
But, that's how I'm most often seen. And that's how I see myself sometimes, too.
How does what I do, say, wear affect how people see my husband or my kids? Is what I'm doing something that is appropriate for my role as Hubs's wife or my boys' mom?
I think it's okay to think like that a little. After all, if I walked into Hubs's conservative office wearing a short-short dress, that doesn't reflect well on him. Or if I would cuss at someone in the parking lot of the boys' preschool, that would end up reflecting negatively on them.
It's okay to consider how my actions would affect others in my life.
But, even though I love my family and even like being referred to as J's wife or Monkey's or Bear's or Cub's mom, that's not all I am.
I'm Shell.
Sensitive, emotional, driven, scattered, intelligent, flaky, loyal, reader, writer, yoga-lover, beach girl, comfy-clothes-wearing, flip-flop loving, Christian, sarcastic, contradictory, teacher, wife, mom, sister, daughter, friend.
Me.
There was a time in my life when I felt like everyone around me had pigeon-holed me into a box that wasn't really me. It was just what they wanted me to be.
And while it wasn't necessarily a bad little box that they put me in, it was still a box.
A box that felt suffocating to me because it wasn't who I really was.
And I did some things that weren't really me, either, but I couldn't stand the labels being put on me.
Then, I learned that a better way to handle it was to just be me. Not to try to live up to the labels that get put on me. And not try to do something just to disprove someone's idea of me, either.
But, just to be me.
And so while I am J's wife, my boys' mom, my mom's daughter, my brothers' sister, and on and on….I am still me.
Some may not like that I don't fit into the box that they want to shove me in, but I've learned that I don't do well trying to deal with other people's labels.
Or even my own labels.
I've learned that I have the freedom to be who I really am.
That it's hard enough to find your place in the world without dealing with what others think you are or want you to be. That there's no way to be exactly who someone else wants you to be. That you can only be yourself.
And I'm comfortable with who I am.