Did you know this is the 26th "glass" of PYHO? We've been doing this for half a year now! I'm not a photographer, so the picture memes didn't work for me- unless I could tell a story about them, like
this post
from last December. Though I liked playing along with some fun memes, I soon felt the need for at least one post a week when I really pourd my heart out. I even said in some of those posts "I'm pouring my heart out today." When I would say that, I actually started getting an image of that in my head(the one you now see on my button). And because eventually, I was writing these posts on Wednesdays anyway, I thought I would take a leap and see if anyone else would like to join in. Oh, was I NERVOUS, thinking no one would join in! Thankfully, you all are amazing and have joined in!
A big THANK YOU to everyone who has joined in- whether it's by writing your own post or by visiting those who link. I really feel like I get to know you better when I read your PYHO posts.
If you need more info about Pour Your Heart Out, see THIS post.
Please grab the button for your post and link up!
Again, just a brief reminder that everyone linking is pouring their hearts out and we should all be respectful in our comments. 😉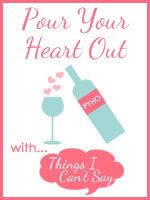 In this life, we are all entitled to make our own decisions. As long as it's not something illegal or immoral, we have a lot of choices that are completely up to us- we have to figue out what we think is best for us.
Personal decisions.
But sometimes, we hurt someone with those choices.
Not intentionally. We know that we can't please everyone.
And even though we have the right to make the choices we did, the people who get hurt by those choices….well, they have the right to feel hurt.
Because one of the choices that we are allowed to make is how we feel about something. We're allowed to feel hurt by a choice someone made. Whether we understand their choice or if we think they are wrong, we're allowed to feel sad about it.
My baby brother's wedding is next month. My oldest son is a ringbearer in it.
I am not in it.
Not a bridesmaid, not a reader, not even the guest book attendee, which is basically a fake position anyway.
I am his only sister. But, I am not close to his finacee. I like her, but we don't spend a lot of time together. Mainly because I now live 600+ miles away. But, when we did live nearby- well, we have three kids and they have none and are still busy with the party-stage of life.
Is it her right to ask whoever she wants to be in her wedding? And to not ask someone if she doesn't want them in her wedding? Yes, yes, it absolutely is her right.
But, I have the right to be hurt by it.
To remember that when I got married, I just assumed that my brothers(my two biological and my NC brother) would be in it. Even though dh could count the hours he'd spent with my bio brothers on his fingers by the time our wedding came around, due to how far apart we lived from each other. And even though I don't think my older brother had even said so many as 20 words to him at that point.
Just because I happen to think that you usually should think of family first in these situations… after all, how many times do you hear of people who look back at their wedding pictures years later and realize that they no longer even see the people who were in their bridal party…with the exception of family. So, to pick someone else over family- I see it as a choice that most people would someday regret. Not all the time, I understand- some people really are friends for life. And some people have crazy family members who should be banned from even attending a wedding. But, just because I happen to feel this way does not mean that everyone has to agree with me.
I do not have the right to pout, be a baby, throw a fit, or try to put a damper on their day.
I do have to respect her choice. And I can even understand it sort of kind of not really at all.
But, I do have the right to feel hurt about not being asked.
And I also have the right to wear a dress ten times as fabulous as what the bridesmaids will be wearing. Anyone have one for me to borrow?